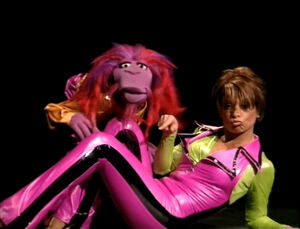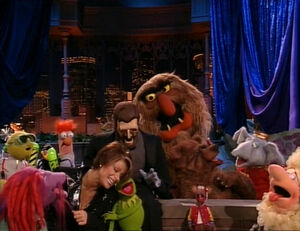 A crazed robot of President Lincoln runs amuck throughout the Muppet Studios while Clifford repeatedly tries to grab a kiss from Paula Abdul.
Skit Highlights
Trivia
This episode was shot as part of the first season (production number 103), but was not aired until the second.
Gonzo's cannonball number appears during the opening credits on one of the TV monitors.
An early, pink version of Zippety-Zap appears before the second act break. He would become turquoise later.
This is Polly Lobster and Clueless Morgan's last appearance to date.
Performers
Cast
Muppets:
Clifford, Kermit the Frog, Gonzo, Johnny Fiama, Sal Minella, Miss Piggy, Captain Pighead, Craniac, Snorty, Robot Abraham Lincoln, Dr. Bunsen Honeydew, Beaker, Statler and Waldorf, Sam the Eagle, Andy and Randy Pig, Nigel, Sweetums, Doglion, Bossmen, The Clodhoppers, The Extremes, Zippity Zap, J.P. Grosse, Hopper, Clueless Morgan, Polly Lobster, Mr. Callahan, The Whipley Triplets, Ms. Whipley, Dr. Watson, Sherlock Holmes, Sherlock Holmes' cat, Miss Weatherington, The Refined Young Cannonballs, Nine Inch Snails, Carl the Big Mean Porcupine-Eater, Nate Leakey, Statler and Waldorf's Nurse, Snookie Blyer, Seymour, Mr. Poodlepants, Fazoob
Community content is available under
CC-BY-SA
unless otherwise noted.