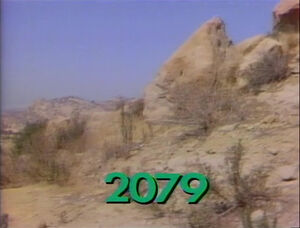 Picture
Segment
Description




SCENE 1
Big Bird wishes Luis, Gordon, the kids, Mr. Macintosh, Barkley, Olivia, and the viewer good morning. He sings "Good Morning Mr. Sun" afterwards.

Cartoon
A hand draws a farm backdrop for the animals.
(First: Episode 0925)

Film
George the Farmer demonstrates short and tall.
(First: Episode 0254)

Muppets
The Anything Muppets perform a "Handclapping Number".
(First: Episode 0491)

Animation
It's a crocodile
Artist: Ishu Patel
(First: Episode 1663)

Film
A variety of cat-shaped objects walk in front of the screen.
(First: Episode 1802)

Cartoon
A spider refuses to give up spinning a web, no matter how badly injured he becomes.
(First: Episode 1652)

Muppets
The Count finds three Honkers and counts 20 of their honks. They then want him to honk his nose, but he ends up hurting it.
(First: Episode 1569)

Song
"Paying Attention Song" (Charlie Tyson)
(First: Episode 0934)

Cartoon
M for Mask

Muppets
Two-Headed Monster: MOM.
(First: Episode 1481)

Cast
The Lovers of Five (David, Luis, Gordon, and Bob) sing "Gimme Five."
(First: Episode 1137)

Cartoon
The Ringmaster #5: Five fantastic floating fools fall from the big blue blimp.
(First: Episode 1310)

Muppets
Ernie & Bert — Bert tells Ernie that if he can clean the messy apartment in fifteen seconds or less, he will give Ernie his dessert, ice cream and cookies. (beginning and ending edited)
(First: Episode 0033)

Cartoon
A story about an ape and a bird, using the letter A.
(First: Episode 0158)

Insert
David is in a bit of a grumpy mood, so Harriet and Mr. Macintosh cheer him up by having them all do a soft-shoe dance routine in their seats.
(First: Episode 1369)

Film
Elephants in the zoo.
(First: Episode 0283)




Insert
Gordon reads the kids Home Run on the Range starring Forgetful Jones.
(First: Episode 1964)

Cartoon
An elephant counts to 20.
Artist: Owe Gustafson
(First: Episode 1466)

Muppets
Sesame Street News Flash
Kermit the Frog tries to find out what makes people angry, but everyone he encounters is too busy to speak to him, which ultimately causes him to lose his temper and yell at the camera.
(First: Episode 0537)

Cartoon
Two stick figures use the salida.

Insert
After witnessing Herry Monster lifting a large barbell, Telly wishes he could do the same, though doesn't believe he can do it. Bob sings "Don't Be Afraid to Try," encouraging him to give it a try and keep trying until he's able to do. With newfound confidence, Telly is able to lift the barbell.
(First: Episode 1607)

Cartoon
Millie and Molly build a bookshelf.
(First: Episode 1287)

Song
"Five Onstage Dancers"
(First: Episode 0539)

Animation
Pentagon in space
(First: Episode 1714)

Celebrity
Sally Ride announces that A is for Astronaut and blasts off.
(First: Episode 1949)

Cartoon
"The Story of A": A witch tells bored kids a story about the letter A involving an ant's apple getting stolen by an archer.
(First: Episode 0130)

Song
Joe Raposo sings "I'm an Aardvark."
(First: Episode 0425)

SCENE 2
Luis, busy with work, asks Big Bird to take a piece of rope over to Olivia at 123 Sesame Street. On the way, Big Bird wonders what she needs it for. He imagines various different things it could be, such as a telephone line or an escaped snake. When he reaches Olivia, her use for it is one he didn't think of - tying up a box of books.

Cartoon
A boy has fun with his wood plank.
(First: Episode 1503)

Muppets
Beat the Time with Grover.
(First: Episode 0423)

Animation
The mountains make a snack for a bird, but he forgets to brush his teeth afterward.
(First: Episode 1429)

Muppets
"ABC Disco"
(First: Episode 1324)

Cartoon
A short bird stands under a tall bird, which lays an egg on its head.
(First: Episode 0303)

Song
Luis sings "Three of These Things" with three kids with umbrellas and one unlucky kid without one.
(First: Episode 0449)

Animation
Where do the a's fit?
(First: Episode 1586)

SCENE 3
Luis and the kids come by Big Bird's nest to invite him to the park. Big Bird shows off the new photos he's displayed and asks them to guess what they are. Luis and the kids guess each species, and that they're all birds, but Big Bird knows what else they all have in common - they're his relatives.

Film
Joe Raposo sings "Dressed Up."
(First: Episode 0302)

Muppets
Cookie Monster is about to eat a cookie, when a sad-looking girl approaches and stares at him. At first, he ignores the girl and tries to eat the cookie, but can't do it. He breaks the cookie in half and shares the cookie with the girl. He eats his half of the cookie. When the girl eats her half, she eats it just like Cookie Monster.
(First: Episode 0623)

Cartoon
An apple, an orange, and a pear learn they can cooperate by rocking and rolling.
(First: Episode 0555)

Muppets
Ernie & Bert — Ernie wants to go outside and play catch, but Bert gets him interested in watching his goldfish.
(First: Episode 1422)

Cartoon
Typewriter: M for magic
(First: Episode 0841)

Song
Joe Raposo sings "What Do You Do With a Fruit?"
(First: Episode 2050)

SCENE 4
Gordon asks why Oscar has left his fishbowl out, but covered with a cloth. Oscar claims it's to keep them from talking and singing, much like one does with a parrot. Gordon finds this silly and removes the cloth. To his surprise, the fish start to speak and announce the sponsors.