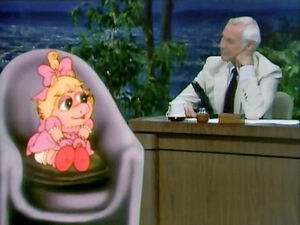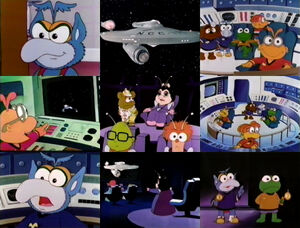 When the TV breaks in time for their favorite cartoon Funny Freddie, the Babies turn a cardboard box into a TV and make their own shows, including a Star Trek parody, commercials, a music video, talk shows and more. Piggy appears on The Tonight Show, and Fozzie even manages to make Johnny Carson laugh.
Songs
References
When Animal first appears, he hums a tune similar to the Jaws theme song.
A parody of the CBS logo appears in Kermit's newscast.
Footage from Ghostbusters plays during Bunsen's commercial.
Footage from the actual Star Trek plays during the parody Weirdo Trek.
Gonzo mentions Luke and Han Solo, Indiana Jones, and Larry, Moe, and Curly to Kermit during Weirdo Trek.
The shows the Muppets suggest are I Love Piggy, Laverne and Skeeter, Leave It To Beaker, Wide World of Weirdo, Happy Dogs, and

Candid Computer

.
The episode ends with Gonzo doing a parody of The Twilight Zone he calls The Weirdo Zone as Rod Serling.
Notes
Characters
Muppet Babies: Baby Kermit, Baby Piggy, Baby Fozzie, Baby Gonzo, Baby Rowlf, Baby Scooter, Baby Skeeter, Baby Animal, Baby Bunsen, Baby Beaker
Supporting Characters: Nanny