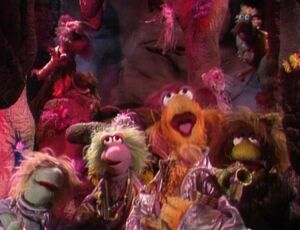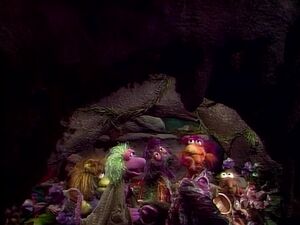 When the traveling Minstrels make another visit, Mokey decides she's always wanted to be a Minstrel, too. She takes off with the Minstrels, but Cantus, their cryptic leader, makes her doubt that she really has the dedication to follow this path.
Meanwhile, Doc buys himself a saxophone and takes lessons from its instructions.
Fraggle Facts
There are four Minstrels who follow Cantus, but it's possible for other Fraggles to join as well. To become a Minstrel, they need to have ability and dedication, as well as the patience to put up with Cantus' tests.
Notes
This is the second and last of two episodes in which the credits are presented with a drop shadow (the other being "Wembley's Egg").
There's another Jim Henson reference in this episode: Cantus instructs Mokey in the way of the Minstrels, telling her that "All is all. Is is." This line, a parody of '60s-style cosmic wisdom, was intoned by the Monk (Jerry Nelson) in Henson's 1969 experimental TV program, The Cube.
Supporting cast
Songs
Video releases