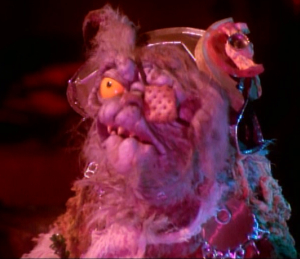 Charlene is left to babysit Baby Sinclair, who is teething, while Fran and Earl go out for a nice romantic dinner. Fran gives into temptation to call home, but no one answers: The children have been kidnapped by food that has been left in the refrigerator for too long and gone bad. Charlene must use her wits to foil the food before Fran and Earl get home.
Supporting Cast
Notes
Taped on August 09, 1991
Staff writer Tim Doyle provides the voice of General Chow, the bitter, cat-like leader of the spoiled food/prey creatures.
Among the refrigerator creatures are puppets originally used as the Nielsens (and Arthur Rizzic) and the Grapdelites.
Video releases
Community content is available under
CC-BY-SA
unless otherwise noted.