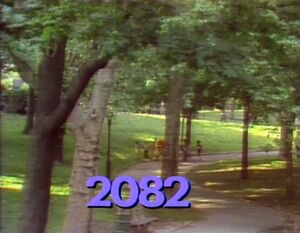 Picture
Segment
Description

SCENE 1
Forgetful Jones and Olivia are sitting together when Forgetful addresses her as "Maynard." Olivia is upset he can't remember her name and tries to teach him things to think of when trying to remember her name (something you eat- an olive, something you scream- "Ee!", and something you say when you can't remember- "Uh.") Forgetful eventually nails the pattern down until he finally addresses Olivia as "Potato Chips Wahoo-uh!" "Just call me Fred," Olivia mutters.

Cartoon
A peasant tries to woo a pretty girl by reciting the famous "Roses are Red" poem. The lines are fed to him by a poet behind a bush, whom she eventually runs off with.
Artist: Irra Verbitsky
(First: Episode 2058)

Film
A baby chick hatches from an egg. (Music: Joe Raposo)
(First: Episode 0690)

Muppets
Cookie Monster does a taste test to compare square shaped cookies, triangle shaped cookies, and circle shaped cookies.
(First: Episode 1750)

Cartoon
Workmen construct a D building, filled with everything that begins with D.
(First: Episode 0406)

SCENE 2
Big Bird tells the viewer Snuffy is going to come by with a secret knock, and that Olivia and Gordon are being invited for what they're being told is a surprise, being to see Snuffy. Once they both arrive and have a seat, they all find themselves awkwardly waiting in silence for the unknown surprise. Once the knock finally comes, Big Bird is eager to introduce Snuffy, but as it turns out, a young girl appears at the door to tell Big Bird that Snuffy's been running late to Snufflegarden and will try tomorrow.

Animation
Blue, red and yellow ovals play "Old MacDonald".
(EKA: Episode 2002)




Muppets
Ernie & Bert — The Count Sleeps Over at Ernie & Bert's (Part 1)
The Count sleeps in Bert's bed while Bert sleeps on the couch. Ernie tells The Count that he can count sheep to get to sleep, but it never dawned on Ernie that the Count never gets tired of counting. He stays up all night counting sheep, to Ernie's detriment.
(First: Episode 0941)
Cartoon
An owl and a bluebird work out a compromise.
(First: Episode 1493)

Muppets
Ernie & Bert: The Count Sleeps Over At Ernie & Bert's (Part 2)
It's the next morning. The Count had a good night, but he didn't sleep. His counting kept Ernie up, and now Ernie is walking and counting like a zombie.
(First: Episode 0941)

Cartoon
Consonant Sound Limerick: D—Dog
Artist: Jeff Hale
(First: Episode 1149)
Film
Footage of a Chinese noodle factory.
(First: Episode 0984)

Cartoon
Three birds enter a cuckoo clock to do their job.
(First: Episode 0407)




Muppets
Bushman Bill introduces Didi O'Day and the Dew Drops performing "D Duah Duah."
(First: Episode 1449)

Animation
Teeny Little Super Guy recalls how he learned about the meaning of DANGER.
Artist: Paul Fierlinger
(EKA: Episode 1971)

Animation
A white shell is uncovered in the sand.
(First: Episode 2061)

Celebrity
Carly Simon sings "Be With Me" with Telly and some kids.
(First: Episode 2039)

Film
A look at the life of Colleen, who lives in Arizona.
Music: Joe Raposo
(First: Episode 0504)

Cartoon
The Typewriter gets stuck in a spot of glue, and types "G: Glue".
(First: Episode 0775)




Muppets / Cast
Bob reads the story of "King Digitus." The king presides over the Kingdom of Addition, where everyone loves to add things. However, King Digitus and his subjects soon find there's nothing left to add in the kingdom. He thinks they'll have to shut down the kingdom, when a young girl teaches them how to subtract instead.
(First: Episode 2057)

Cartoon
Letter G drawing with kid voice-over.
(First: Episode 0306)

Film
A girl narrates a segment about nature through Winter and Spring.
(First: Episode 1966)

Muppets
The Two-Headed Monster builds a Two-Headed Snowman. It's missing noses; they fight over a carrot which breaks in half, solving the problem.
(First: Episode 1622)

Film
George the Farmer demonstrates noisy and quiet.
(First: Episode 0241)

Insert
In the rain, Maria goes to get some pizza. Oscar asks her to get him a slice and describes the various toppings he wants. Maria suddenly loses her appetite.
(First: Episode 1194)

Animation
Three pretty kitties live in a celery house.
Artist: Evelyn Lambart
(First: Episode 1663)

Muppets
Ernie & Bert — On the deck of The Love Boat, a uniformed Ernie expresses how much he loves this boat. "Ernest" shares his love with Amanda, a grumpy patron, a fish, and soon several passengers who join them in their love for this boat.
(First: Episode 1958)

Cartoon
King Minus and the Disappearing Dragons
(First: Episode 0345)

Muppets / Cast
Oscar sings "One of These Things" over a four-way split screen containing Gordon, Bob, David and Slimey, all dressed in tuxedos.
(First: Episode 1904)

Song
"Three is My Favorite Number"
(First: Episode 0429)




SCENE 3
Snuffy shows Big Bird the cloud costume he's going to wear in his Snufflegarden class's upcoming pageant about the sky, and even sings the song that accompanies it, while Big Bird imagines him as a cloud.

Cartoon
A boy chases a butterfly, and watches the clouds form into different objects.
Artist: Irra Verbitsky
(First: Episode 1736)

Muppets
Captain Breakfast unsuccessfully encourages a little girl to eat breakfast, the most important meal of the day.
(First: Episode 1492)

Cartoon
Three cannonball men switch spotlights as they dance.
(First: Episode 1469)

Cast
The Great Addini (Maria) performs her famous bottle-balancing trick with her assistant Bill (David), who is doubtful the stunt will work.
(First: Episode 1937)

Animation
An opened egg is put back together.
(First: Episode 1454)

SCENE 4
Snuffy parts ways with Big Bird in his cloud costume, and Olivia and Gordon come out to hear who Big Bird was talking to. Big Bird tells them all about how Snuffy was a cloud and floated through the air, which the two adults just shrug off. Forgetful Jones announces the sponsors.
Community content is available under
CC-BY-SA
unless otherwise noted.