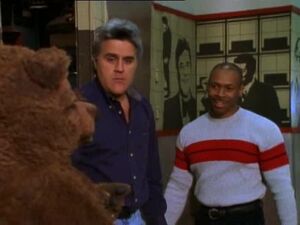 After Bobo the Bear accidentally kills Arsenio Hall, the original guest star, the Muppets must search frantically for a new one while Dr. Phil van Neuter and Mulch succeed in bringing Arsenio back to life, but the result has been postponed until close to the end of the episode. Jay Leno, Kevin Eubanks, Little Richard, Christopher Darden, and Kathy Ireland make cameos.
Skit Highlights
Trivia
Performers
Kevin Clash as Clifford, Mulch, and Carter.
Bill Barretta as Bobo, Pepe, Zippety Zap, Johnny Fiama, Howard Tubman, Doglion.
Brian Henson as Dr. Phil van Neuter, Sal Minella, Nigel, and pizza delivery guy.
Frank Oz as Fozzie Bear.
Steve Whitmire as Kermit the Frog, Rizzo, Beaker, and Eugene.
Dave Goelz as Gonzo, Bill the Bubble Guy, Dr. Bunsen Honeydew, Waldorf, Zoot, and Dr. Pain.
Jerry Nelson as Statler and Cow.
Leslie Carrara as Darci and Miss Kathleen.
Jeff Schnell
Cast
Muppets:
Kermit the Frog, Clifford, Rizzo the Rat, Gonzo, Zippety Zap, Bobo the Bear, Pepe the King Prawn, Dr. Bunsen Honeydew, Beaker, Dr. Phil van Neuter, Mulch, Statler and Waldorf, Fozzie Bear, Johnny Fiama, Sal Minella, Bill the Bubble Guy, Darci, Howard Tubman, Carter, Doglion, Nigel, Dr. Pain, Eugene, Afghan Hound, Miss Kathleen
Background Muppets:
Community content is available under
CC-BY-SA
unless otherwise noted.