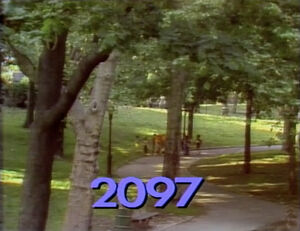 Picture
Segment
Description

SCENE 1
In the early morning, Snuffy stops by Big Bird's nest, unable to sleep from the thrill of meeting everyone yesterday. A thought then occurs to him - he wonders if it really happened, or if he just imagined it. Big Bird is sure it happened, but starts doubting himself too. They both envision the momentous occasion, but can't figure out whether they're just imagining it or not.




SCENE 1
cont'd
Big Bird and Snuffy try and confer with Elmo, who remembers holding onto Snuffy's snuffle. However, when they ask him whether or not he imagined it, he can't give them a proper answer. Eventually, Luis, Gordon and Susan, and finally Maria pass by and greet Snuffy, confirming they really did meet him.

Animation
New Ball in Town: Three striped balls encounter a polka-dotted ball.
(First: Episode 0777)

Muppets
Anything Muppets (including Farley) shout "E!"
(First: Episode 0408)

Film
People of all ages ride bicycles.
Music: Joe Raposo
(First: Episode 0616)

Animation
Sand E/e
(First: Episode 0642)

Muppets
Muppet & Kid Moment — Grover and Tanya play the "hug/stop" game.
(First: Episode 1562)

Animation
Scribbles move around a black screen, until they see a STOP sign.
(First: Episode 1634)

Film
A boy takes dance lessons at The Alvin Ailey American Dance Theater.
(First: Episode 1716)

Cast / Celebrity
Olivia and George Benson sing "A Friend for All Seasons."
(First: Episode 1314)

Cartoon
A man learns that it's better not to pick the flowers.
(First: Episode 0416)

Muppets
The Count counts seven flowers, and then explains that he loves to count flowers because then he gets to count sneezes.
(First: Episode 0433)

Film
Mad Painter #7
(First: Episode 0314)

Cartoon
Seven animals in a tree.
Artist: Owe Gustafson
(First: Episode 1530)

Muppets
The Two-Headed Monster finds a newspaper.

Film
Two birds
Music: Joe Raposo
(First: Episode 0295)




SCENE 2
Snuffy mopes by the Fix-It Shop and tells Maria that he wants to tell somebody something, but feels too shy to do it. Maria suggests putting it in writing instead. The paper and pen she has are much too small for him, so he dictates the message - "I'm glad we met. I like you. I hope we can be friends. Your friend, I hope, Snuffy." The message turns out to be for Maria, who hugs him and gives him a kiss on the snuffle.

Cartoon
Mi kat iz ... gone
(First: Episode 1967)

Muppets
Sesame Street News Flash
Kermit interviews Alice, from the Lewis Carroll tales. For this adventure, she eats something that makes her grow.
(First: Episode 1765)

Cartoon
A hand draws a guitarist serenading a maiden, as well as the background.
(First: Episode 0791)

Film
Stop! (kids dancing)
Music: Joe Raposo
(First: Episode 0681)

Cartoon
"Why Bears Smile" - a story of a bear who learned which body part to cover when sneezing.
Artist: Bruce Cayard
(First: Episode 1109)




SCENE 3
Snuffy hears Maria and Luis speaking Spanish. He fears she can't be friends with him because he doesn't know any Spanish, but she quells his concerns and teaches him some Spanish with a song - "Tu Me Gustas."

Cartoon
Big, bigger, biggest (strongmen)
(First: Episode 0792)

Muppets
Ernie & Bert — Ernie wears socks on his ears and on his nose in order for Bert to guess which body part he's thinking of.
(First: Episode 1640)

Film
Russian nesting dolls 10-1
(First: Episode 0563)

Cartoon
Can you see the car, frog and bird in the picture?
(First: Episode 1479)

Muppets
"One Banana" (Anything Muppets)
(First: Episode 1941)

Film
Footage of a baby learning to walk.
Music: Joe Raposo
(First: Episode 0427)

Cartoon
E for elephant, eat, eagle, everybody, empty, and egg.
Voice: Casey Kasem
(First: Episode 0002)




SCENE 4
While Big Bird goes to Hooper's Store for some birdseed, Snuffy spots his new friend Maria up in her apartment window. He wants to visit her, but can't reach the ladder for the fire escape. He tries jumping, but that doesn't work either. Big Bird returns and informs Snuffy that the way to her apartment is by using the stairs in 123 Sesame Street.

Cartoon
A red man tries to think of words that begin with H, but a yellow man keeps spewing them out until Red draws a hole under Yellow, who yells "HELP!!"
(First: Episode 0020)

Muppets
"Long Time, No See"
(First: Episode 1698)

Cartoon
H for hair
(First: Episode 0475)




SCENE 5
Susan, Gordon and the kids want to invite Snuffy to the park, but Big Bird tells them he's at Maria's place. They see him perched on the fire escape as he hides under a blanket in the midst of a round of hide-and-seek. Luis announces the sponsors.