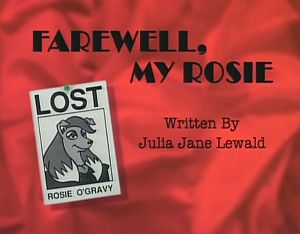 Eliot's apartment is overrun by a TV crew to do a segment on a VIP (Very Important Pooch). Eliot assumes its him only to find out it's Terri Springer, voted Businessmutt of the Year. He learns more than he knew about his neighbor, which helps him get past writer's block for the latest cartoon plot.
In a parallel development, Ace Hart has cracked his one thousandth case but finds very little acclaim. Instead, it turns out that Rosie O'Gravy is missing, and Ace ends up on her trail, interviewing friends, family, and foes.
Notes
The title spoofs Raymond Chandler's hardboiled detective novel Farewell, My Lovely, as does the pursuit of a missing woman gradually leading to surprising revelations.
The episode reveals backstory about Rosie, including her father Tub O'Gravy and mother, Maureen O'Gravy. They separated when she was a pup (as Eddie says, "It's a rotten shame, but it happens.")
Community content is available under
CC-BY-SA
unless otherwise noted.