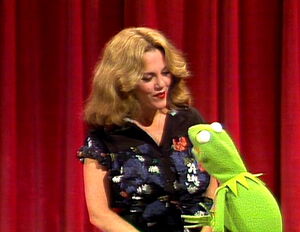 Madeline tells Gonzo she thinks he's terrific on the show, and the ego-starved Gonzo instantly falls in love with her. He drops in to Miss Piggy's dressing room to tell her he no longer has a crush on her, which pleases her until she finds out that he likes someone else. Gonzo's obsession takes him to the brink of marrying her until hearing her comments to Kermit of his going off the deep end breaks his fragile heart.
Songs/Sketches
Notes
The Swedish Chef sketch in this episode was written by Joseph A. Bailey as part of his original audition script for The Muppet Show. Jerry Juhl enjoyed it and incorporated into a regular show script, but Jim Henson rejected it for an unknown reason. It was continuously sidelined by Jim from future scripts until Cheryl Henson, visiting the set one week, reacted positively to it during a read through. She goaded her father into allowing it in the show, offering to design and build the lobster puppets. Bailey had an alternative version, where the Chef prepared a lamb stew instead, until a group of fedora-wearing, Brooklyn-accented, gangster sheep break up the scene.[1]
A clip of the Swedish Chef sketch appears in The Muppets.
Episode
Picture
Description

Cold Open: Madeline Kahn is preparing to go on when Sam the Eagle come into the room. Sam refuses to allow an artist of Madeline's beauty and integrity to do such a weird, sick show. While Sam is complaining, Madeline dons a wig and a pair of Groucho Marx glasses (sans mustache). She looks at Sam and blows a party favor at him. Sam tells Madeline, "You're on."




"The Muppet Show Theme": Statler and Waldorf are sitting backwards, ignoring the singing.

Gonzo blows his trumpet and orange smoke comes out of it.

Kermit answers the age-old question, "Can the frog tap-dance?" by dancing his way through "Happy Feet," even though his feet are never shown on-screen.




Backstage, Gonzo is working with Eric the Yodeling Clam for his new act. Eric practices his yodeling until Madeline Kahn arrives. Seeing that Gonzo is busy, she offers to leave him alone, but instead Gonzo has Eric take a break. When he goes to tell Eric this, the clam clamps down on Gonzo's nose. Madeline helps to free him from the clam's clutches, and then tells Gonzo that she thinks he's terrific on the show. Gonzo starts going crazy over this compliment. Madeline wasn't kidding, and she still thinks Gonzo is terrific. Scooter calls for Madeline to get ready for her musical number, so she's off to the dressing room to change. Scooter asks Gonzo about the clam. Gonzo, who thinks he has fallen in love with Madeline, offers Eric to Scooter for chowder.

Madeline sings "Your Feet" with The Mutations.

Animal does a drum solo of Gershwin's "Foggy Day."

Gonzo goes up to Miss Piggy's Dressing Room. Gonzo reminds Miss Piggy that he has always had a crush on her, a disgusting thought to the pig. However, Gonzo will bother her with this no longer. Certain that she'll be crushed, he apologizes. Miss Piggy, glad that he's finally come to his senses, assures Gonzo that, in time, he'll have forgotten all about her. Gonzo says that he already has, and has found somebody else. "She's nothing like you at all," Gonzo says. "She's beautiful!" Gonzo continues on about Madeline's talent and intelligence. "So breaking up with you isn't painful at all!" Gonzo says, not knowing that Miss Piggy is about to make it painful for him.

The Swedish Chef (Lobsters): The Swedish Chef tries to cook a lobster, who's rescued by three Spanish-speaking bandito lobsters.

UK Spot: Floyd sings "New York State of Mind," backed by Dr. Teeth and Zoot.

Pigs in Space: The Swinetrek has lost all power to its steering mechanism! Captain Link Hogthrob has tried everything, but nothing works! First Mate Miss Piggy happens to notice one lever which she believes the Captain has not yet tried, despite his stating otherwise. He points out that "these are the Captain's controls," and only the Captain can operate them. Against Link's orders, Piggy tries the lever, which closes the doors on Link's head.

Fozzie's Comedy Acts: Fozzie plays his ukulele and sings "The Pig Got Up and Slowly Walked Away." The song, about a woman discovering a boozing man keeping company with a pig, offends a number of pig castmembers, including Link Hogthrob, Dr. Julius Strangepork, Lydia, and Hoggie Marsh.

Madeline performs the "Happy Girl Meets a Monster" sketch with Doglion. In it, Madeline wanders about a park, pointing out things she likes, all of which Doglion destroys. Madeline then sweet talks Doglion, trying to win him over. As she does, he begins to shrink down to the size of a toy. She remarks, "Sometimes you have to talk your troubles down to a size to where you can handle them." She then hits him with her umbrella and walks away.

Backstage, Gonzo arrives, telling Kermit that he and Madeline Kahn are getting married. Gonzo talks about moving out to the suburbs, buying a station wagon, joining the P.T.A, "the whole ball of wax." Kermit reminds Gonzo that he has only just met Madeline, but Gonzo works fast. Gonzo's even broken out the old tuxedo from his magic act just to ask Madeline's hand. This proves to be a problem, as tricks are popping out all over the suit.

Muppet News Flash: Reports are coming in that television news reporters are blowing up.

As Rowlf the Dog is performing "Up, Up and Away," his candelabra takes off.




Gonzo overhears Kermit telling Madeline about when she complimented Gonzo how seriously he took it. Gonzo, heartbroken over hearing that she will not be marrying him, sits alone to sing "Wishing Song." Madeline hears part of his song, and goes to him to apologize and offer to be his friend. Gonzo finishes his song, uplifted, though his sad little song has made Madeline tear up.

At the closing, Madeline again apologizes to Gonzo, who reminds her that "now you'll have to go to all those PTA meetings alone!"
Edits
Nickelodeon: "The Pig Got Up and Slowly Walked Away" was cut.
Cast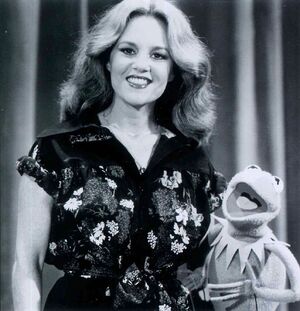 Muppets:
Background Muppets:
Performers
Sources