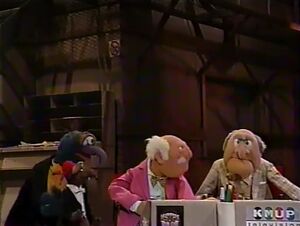 Gonzo and Rizzo host a collage of video clips of the best moments from past episodes. This was because the pre-recorded episode tape had been eaten by Carl, along with the tape-playing machine during a cheese-eating contest.
As Gonzo and Rizzo walk off the stage, they notice that Statler and Waldorf have just finished broadcasting their own show titled The Worst of Muppets Tonight. Of course, they showed the exact same clips that Gonzo and Rizzo showed.
Clips
Notes
This is the only episode not to have Clifford in it.
Performers
Bill Barretta - Big Mean Carl
Dave Goelz - The Great Gonzo, Waldorf
Jerry Nelson - Statler
Steve Whitmire - Rizzo the Rat
Pat Brymer
Jeff Schnell
with

Liz Gandara

Jennifer Keyes

Lisa Thompson
Cast
Muppets: