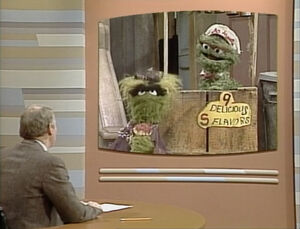 Picture
Segment
Description




SCENE 1
Bob comes across Oscar's trash can, which has now been converted into an ice creamery. Oscar advertises his nine different flavors, all beginning with the letter S - Salami, Salmon Salad, Sardine, Sauerkraut, Sausage, Scallion, Sour Cream, Spaghetti and Spareribs. Bob, despite claiming he wants to support the people in his neighborhood, passes upon hearing the selections.

Cartoon
S for Snail
Artist: Jeff Hale
(First: Episode 1158)

Film
A man spins in circles while riding in his kayak.
Music: Joe Raposo
(First: Episode 0297)

Muppets
Ernie & Bert — Bert asks who Ernie is decorating the room for. It turns out to be the viewer at home.
(First: Episode 0352)

Cartoon
Nine sheep
Artist: Owe Gustafson
(First: Episode 1501)

SCENE 2
Oscar recruits Grundgetta to help attract customers to the stand. He provides her with a scoop and when someone passes by, she licks the cone and says it's the best she's ever had. However, Grundgetta asks for two more scoops before cooperating. A kid passes by and Grundgetta neglects to say her line, as she doesn't feel the ice cream really is the best she's ever had (believing the spaghetti flavored scoop could use more tomato sauce).

Cartoon
A report on homes around the world.
(First: Episode 1711)

Film
Two kids help an old Chinese man get his dragon kite in the air.
(EKA: Episode 0470)

Muppets
Sesame Street News Flash
Kermit stands by a grandfather clock waiting for a mouse to run up it, acting out "Hickory Dickory Dock". Gladys the Cow and a duck show up instead. Finally, a horse comes in and explains that the mouse can't make it. The horse runs through the clock, breaking it.
(First: Episode 0710)

Cartoon
S - Serpiente
(First: Episode 0382)

Song
Joe Raposo sings "Frog Struggle Song."
(First: Episode 0492)

SCENE 3
Robert MacNeil presents a report on the economy and small business by interviewing Oscar about his ice cream stand. Grundgetta briefly poses as a stranger who boasts about the ice cream. Oscar presents the menu of flavors, counting each one as he lists them off.

Cartoon
The story of an old woman who lived in a nine.
Artist: Bud Luckey
(First: Episode 0512)

Muppets
Grover asks The Amazing Mumford if he could make his carrot disappear, provided that some smoke appears. Mumford performs the trick and Grover is impressed by the puff of smoke, however he fails to notice Mumford chomping on his carrot. When Grover asks Mumford to make the carrot reappear, he replies that he can't because he ate it ("You didn't say anything about magic!").
(First: Episode 1210)

Animation
New Ball in Town: Three striped balls encounter a polka-dotted ball.
(First: Episode 0777)

Cast
Luis tosses and turns in bed. Gordon hawks a sure-fire method of getting to sleep - counting. Luis orders Gordon to leave the bedroom in ten seconds, then falls asleep after counting.
(First: Episode 1487)

Cartoon
Letter G drawing with kid voice-over
(First: Episode 0306)

Film
A metal crane and a real crane look alike.
(First: Episode 1530)

SCENE 4
Forgetful Jones stops by and Oscar tries selling him some ice cream. Forgetful's lack of long-term memory prevents him from remember any flavors available, except for strawberry, which Oscar doesn't sell. Oscar gets so fed up that he offers Forgetful a dime to go bother the ice cream man down the block. Forgetful counters that he already received a quarter to bother Oscar.

Film
Three dolphins jump together.
(First: Episode 0222)

Cartoon
Four plus one makes five.
(EKA: Episode 0568)

SCENE 5
Oscar entices Luis to buy some ice cream, showing him he's now added strawberry to the menu. Luis pays him a nickel, but Oscar doesn't have any in stock despite having added it to the menu. He also doesn't allow cash refunds, but states that he'll give Luis his nickel back if he instead tries a Grouch flavor and doesn't like it. Luis gets a scoop of spaghetti ice cream and echoes Grundgetta's issues with it, much to the latter's delight and Oscar's dismay.

Animation
"¡Él juega beisbol!"

Muppets
The Two-Headed Monster shares a bathtub and help each other get clean. They are discouraged when they are finished and drain the tub, but find joy in drying.
(First: Episode 1449)

Cartoon
A girl tries to describe what kind of sandwich she wants, but her dad keeps misunderstanding her.
Artist: Cathryn Aison
(First: Episode 1715)

Film
A boy narrates a film about how cheese is made.
(First: Episode 1124)

Cartoon
A gorilla names "G" words.
(First: Episode 1831)

SCENE 6
Telly doesn't want to leave the Fix-It Shop, fearing he'll be forced to buy one of Oscar's ice cream cones because he's incapable of saying "no" to him. Maria helps by pretending to be Oscar selling ice cream so Telly can learn to say "no."

Animation
Sand S/s
(First: Episode 0622)

Muppets
On the vaudeville stage, Big Bird and Snuffy identify S words and tell gum-wrapper jokes.
(First: Episode 2020)

Cartoon
"Have you seen my NO?"
(First: Episode 0773)

Film
The Mad Painter #9
(First: Episode 0338)

SCENE 7
Maria checks to see how Telly held up against Oscar. She finds him now running the ice cream stand. Telly explains that he was able to say "no" to every question Oscar asked regarding buying ice cream, but he never practiced what to say when Oscar offered to sell him the ice cream stand.

Cartoon
A vaudeville act of two SAME people ends when one of them falls off the stage.
(First: Episode 0778)

Muppets
Muppet & Kid Moment — Ernie and Katie find the many similarities between each other.
(First: Episode 1490)

Cartoon
Jazz Alphabet: male vocalists shout each letter.
(First: Episode 0619)

SCENE 8
Oscar and Grudngetta return to the stand to find business is booming, with several Grouches (including The Grouchketeers) crowded around making orders. Telly points out that while Oscar was trying to sell Grouch ice cream to regular people, he's had much better luck selling to Grouches instead. Oscar asks if he can have the stand back, but Telly replies, "No!" (thanks to some more coaching from Maria).

Luis announces the sponsors.
Community content is available under
CC-BY-SA
unless otherwise noted.