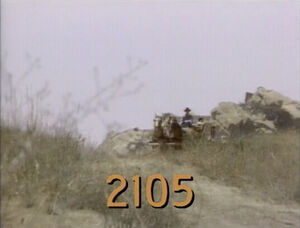 Picture
Segment
Description




SCENE 1
After an encounter with Forgetful Jones, Maria imagines what it would be like to be just as forgetful as he is.

SCENE 1
cont'd
Back in the present, David arrives to remind Maria about their lunch date, to which Maria responds, "Well golly, I guess I forgot!"

Cartoon
Men in boxes sound out the word RUN.
(First: Episode 0369)

Muppets
Harvey Kneeslapper tells the mailman that he has a letter for his mother: the letter R.
(First: Episode 0583)

Film
Old paper, new paper
Music: "Blue Nosed Gopher" by Graham Preskett
(First: Episode 0972)

Cartoon
A mother bird brings her babies a huge number 12.
(First: Episode 0493)

Celebrity
Edith Ann talks about the time she made a sandwich.
(First: Episode 0890)

Cartoon
A derby-hatted man identifies animal sounds, ending with a tractor.
(First: Episode 0839)

Muppets
Cookie Monster stars in "The Ballad of Casey McPhee."
(First: Episode 0516)

Animation
Blue, red and yellow ovals play "Old MacDonald."
(First: Episode 2002)




SCENE 2
Maria and David come by and see Slimey about to take a bath. They coo and speak baby talk as they study his tiny bath curtains, brush, and rubber duckie, to Oscar's chagrin. David points out that Slimey is missing something important - soap. Oscar tells them to open the curtains, where they see Slimey is taking a mudbath.

Film
Kids narrate footage of whales.
(First: Episode 1266)

Film
"Three of These Kids" — Football and Baseball
(First: Episode 0536)

Cartoon
A little boy asks his big brother questions about what happens at school.
Artist: John Korty
(First: Episode 1877)

Film
A boy visits the hospital to see his mother's new baby.
(First: Episode 1125)

Muppets
Sesame Street News Flash: Mary's Little Lamb
After an interview with Mary, the lamb follows Kermit.
(First: Episode 1943)

Cartoon
A boy chases a butterfly, and watches the clouds form into different objects.
Artist: Irra Verbitsky
(First: Episode 1736)

SCENE 3
Tania helps Forgetful Jones remember the names and functions of his body parts.

Cartoon
A boy passes by various signs before reaching the SALIDA.
(First: Episode 0500)

Film
Several people help a man when his car is stuck in the mud.
(First: Episode 0619)

Muppets
The Two-Headed Monster finds a piano and decides to play it. The left half wants to play short notes, while the other half prefers to run his fingers across the keyboard. They decide to cooperate, and both use their notes to play "Chopsticks".
(First: Episode 1366)

Cartoon
"Ladybugs' Picnic"
(First: Episode 0416)

Film
David asks the viewer to find a rectangle and two circles in the picture of a doorbell.
(First: Episode 0434)

Cartoon
Madrigal Alphabet
Artist: Jeff Hale
(First: Episode 0615)




Muppets
Snuffy shows Big Bird the cloud costume he's going to wear in his Snufflegarten class's upcoming pageant about the sky, and even sings the song that accompanies it, while Big Bird imagines him as a cloud.
(First: Episode 2082)

Cartoon
The Typewriter: R for Rope
(First: Episode 0764)

Film
A clown (Dennis Allen) takes off his make-up. Which face do you like better?
(First: Episode 0461)

Muppets
Ernie & Bert — Ernie brings a surprise home, and he tells Bert to guess what it is. The surprise turns out to be a puppy. Bert wants to call the puppy "Norman"; Ernie suggests "Godzilla the Wonder-Dog".
(First: Episode 1956)

Film
Sounds Around the House v1: a dripping water faucet, a man playing the violin, a woman vacuuming, a teenager listening to pop music, and a passing elevated train.
(First: Episode 1706)

Cartoon
Don't cross the street alone.
(First: Episode 1942)

Muppets
The Count extinguishes electric candles by counting them with his finger. As he heads up the stairs for bed, he steps on Fatatita. He also tells his wolf Yuba to run and play with his friends.
(First: Episode 0545)

Cartoon
F stands for flower, forest, fox, frog and fantastic.
(First: Episode 1102)

SCENE 4
At today's Grouchketeer meeting, Oscar initiates a "listening session" as they listen for grouchy sounds in the city. They hear the sounds of a traffic jam, then the sound of a jackhammer. Oscar prefers to listen to jackhammering accompanied by his atonal phonograph music.

Film
SALIDA (word spins around)
(First: Episode 0967)

Cast
Luis looks for the SALIDA in a brick room.
(First: Episode 0407)

Cartoon
The Ringmaster displays 12 fluttering finches.
(First: Episode 1295)

Muppets
A Muppet girl (Ivy Austin) approaches a sad Herry and asks him what's wrong. He laments about being left out of the baseball game, and she offers to cheer him up by taking him to the zoo.

Transition
Diamond transition
(First: Episode 2020)




SCENE 5
Oscar and the Grouchketeers keep listening. Oscar is irked by the sounds of laughter from Gordon and Susan. Although it is followed up the pleasant, closing theme, he likes hearing it because it means it's time to say goodbye. He and the Grouchketeers bid farewell as Maria announces the sponsors and the credits roll.
Community content is available under
CC-BY-SA
unless otherwise noted.