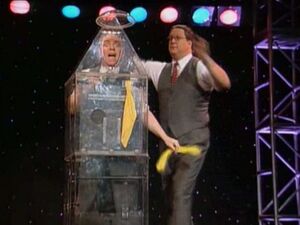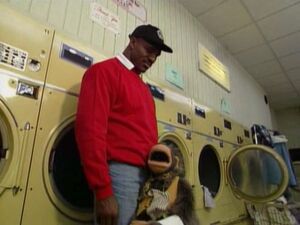 Gary Cahuenga, a dummy without a ventriloquist, is found after forty years stuck in an old trunk. The Muppets, with the help of Penn and Teller, must help Gary adjust to his new surroundings, as well as to make new friends at KMUP. Lori Fetrick, Raye Hollitt, Evander Holyfield, and Kathy Najimy make cameo appearances.
Skit Highlights
Penn and Teller's Magic Trick
Notes
This episode was produced much earlier in the season (production number 205) and is the introduction to the character Gary Cahuenga. However, it was broadcast much later in the US. Thus Gary is seen in past episodes such as 201, 202, and 209 which were made after this episode.
Certain international airings cut out the entire scene involving Gary attempting to jump from the KMUP roof.
This episode does not have a billed special guest star, nor the regular Kermit introduction of "It's Muppet's Tonight with our very special guest star..."
When Gary is let out of the trunk he thinks he and his partner Chick are performing on The Ed Sullivan Show. Back in the 1960s & 1970s Jim Henson and the Muppets made many Ed Sullivan appearances.
A clip of Johnny Fiama's restaurant set love song from episode 104 can be seen on the screens of the KMUP control room.
This is Seymour's last appearance to date.
Select, international airings of the episode omit the entire scene of Gary attempting to jump from the KMUP rooftop.
Performers
Cast
Muppets:
Gary Cahuenga, Kermit the Frog, Clifford, Gonzo, Rizzo the Rat, Seymour, Pepe the King Prawn, Johnny Fiama, Sal Minella, Bobo the Bear, Beaker, Mama Fiama, Statler and Waldorf, Zippety Zap, Spamela Hamderson, Andy and Randy Pig, Nigel, Bill the Bubble Guy, Thor, Eugene, The Benedictine Monkees, The Smashing Pumpkins, Cue Card Monster, Larry
Community content is available under
CC-BY-SA
unless otherwise noted.