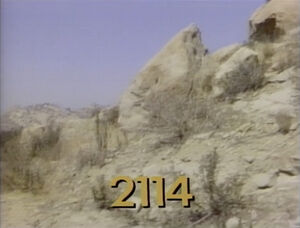 Picture
Segment
Description




SCENE 1
Telly Monster and Big Bird are fighting over who gets to read a book in Big Bird's nest, tugging on each end until it tears in half. They apologize to each other and decide to each read their own half. Big Bird starts until he gets to a word that starts with the letter "H" and then cuts off. Telly's half picks up where it left off with "en". They figure out it spells hen, and Telly wonders who would want to read a book about a hen. Big Bird replies that he would, as he has an aunt in Cincinnati who's a hen.

Film
A baby chick hatches from an egg. (Music: Joe Raposo)
(First: Episode 0690)

Animation
P for Pyramid
(First: Episode 2061)

Muppets
Ernie & Bert — Ernie and Bert explore an Egyptian pyramid. Bert is excited, but Ernie is afraid. They see statues that look like them. Bert decides to explore a tunnel while Ernie looks at the statues, and then the Ernie statue starts tapping and talking to Ernie. But when Ernie calls Bert back to the room, the statue doesn't move. Ernie is scared until the statue starts singing Rubber Duckie with him. Bert doesn't believe Ernie, until he says "Bye-bye, statue," and the statue replies "Bye-bye!" and laughs... just like Ernie.
(First: Episode 1621)

Cartoon
"Pinball Number Count" (#12)
Artist: Jeff Hale
(First: Episode 0985)

Film
1-20 Ice Skaters
Music: Joe Raposo
(First: Episode 0408)

Cast
Maria and Luis perform "You Say Hola and I Say Hola."
(First: Episode 2062)

Cartoon
A girl and elephant show heavy and light.
(First: Episode 0785)




Muppets / Cast
Bob reads the story of "King Digitus." The king presides over the Kingdom of Addition, where everyone loves to add things. However, King Digitus and his subjects soon find there's nothing left to add in the kingdom. He thinks they'll have to shut down the kingdom, when a young girl teaches them how to subtract instead.
(First: Episode 2057)

Film
Five dancers disappear one by one, until there are none left.
(First: Episode 0589)

Cartoon
"¡El juega hockey!"

Muppets
Super Grover: Janet Fringle needs help carrying many boxes. Super Grover suggests gluing them together, but she eventually figures out that taking them one at a time will work.
(First: Episode 0588)

Film
Tomatoes grow in a field. (edited)
(First: Episode 0084)

Cartoon
P Words (including parachute and plug)
(First: Episode 0296)

Film
A girl goes to the shoemaker and watches him as he repairs her shoes.
(First: Episode 0987)

Muppets
Sesame Street News Flash
Kermit explores the lab of Professor Nucleus Von Fission, who has just built a robot called the Six Dollar Man, out of parts which cost him six dollars total. The robot destroys the lab, while Von Fission laughs. Kermit is horrified, but Von Fission explains, "What do you expect for six dollars?"
(First: Episode 0933)

Animation
Stop-motion: A bunny tries to make a bench with blocks, but needs a chick's help.
(First: Episode 1463)




SCENE 2
Olivia is being pulled out the doors of 123 Sesame Street by a very excited Barkley when Big Bird comes by walking his pet brick on a leash. Olivia explains to him that bricks don't eat or breath, so they don't need to be walked (all while getting pulled around by a still very excited Barkley). Big Bird says he still wants to walk it anyway, and begins to make his way down the street. He turns back to Olivia who is still struggling with Barkley and says she ought to get herself a brick.

Muppets
Little Chrissy and the Alphabeats sing "You're Alive."
(First: Episode 1482)

Cartoon
A supermarket worker stacks 12 cans, which keep collapsing every time someone grabs one.
(First: Episode 0782)

Film
Footage of a city neighborhood; includes shots of a sno-cone vendor.
Singer: "¡Linda paloma!"
(First: Episode 0426)

Cartoon
Heavy and light characters are weighed on a scale.
(First: Episode 0843)

Muppets
Muppet & Kid Moment — Ernie, Bert, and Shola discuss the difference between heavy and light.
(First: Episode 0549)

Cartoon
A kid has a zoo in him.
(First: Episode 0783)

SCENE 3
Luis is trying to fix a radio at the Fix-It Shop, but he can't figure it out, so he calls Maria over. As she works out the problem, Luis sneaks away, grabs his jacket, and quietly leaves the scene. When Maria has figured out the problem with the radio, she turns to Luis, but can't find him.

Film
An ice cream man hands a boy too many cones. The boy cries out for "HELP" and some kids eat the extras.
(First: Episode 0484)

Cartoon
P is for Pillow
(First: Episode 0374)

Celebrity
John Moschitta, Jr. plays Porter Pepper of Peter Piper's P Products, which produces products that begin with the letter "P". He mentions that two of his clients were Peter Pan and Pablo Picasso until Peter Piper, the boss, gives him a phone call. Pepper now presents a new problem: Peter Piper's "P" Products has been purchased, and is now Sam Singer's "S" Stuff Store. Pepper, without stalling, summons his staff to stand by, switches his products to stuff, and searches for snacks and saucers.
(First: Episode 2061)

SCENE 4
Grundgetta comes by the Fix-It Shop to find Maria angry that Luis snuck away. Grundgetta asks if she's going to yell at him when he gets back, and Maria confirms that that's exactly what she's going to do. When Luis returns, he produces flowers for Maria to celebrate the three-year anniversary of the day they became business partners, and Grundgetta tells her to let him have it. Except, she's not angry anymore, so Grundgetta resolves to return home and get angry at herself in the mirror.

Cartoon
"Mad Goat Song"
Artist: Derek Lamb
(First: Episode 0771)

Film
A man uses a TELEPHONE booth in the city.
(First: Episode 0928)

Muppets
The Two-Headed Monster finds a TELEPHONE, and reads the word.
(First: Episode 1569)

Cartoon
A voice asks a face if it's aware of the letter S, and it is revealed that the face belongs to a snake.
Artists: The Hubleys
(First: Episode 0278)




SCENE 5
As Luis approaches the newsstand, he hears Maria, Gordon, David, and Susan talking about what to get him for his birthday. As he listens in, they all make suggestions until Maria notices him eavesdropping. They start making suggestions like taking him out for sardine ice cream, when Luis looks up to see that they've spotted him. They call him out on it and say he may as well join the conversation. But Luis says he'd rather his birthday present be a surprise.

Cartoon
"The Adventures of Clever Bill!" The main character solves conflicts between two fighting giants and two fighting girls.
(First: Episode 2068)

Film
A man makes a shadow puppet of a dog.
(First: Episode 0601)

Muppets
"The Rhymies at Sea" - Larry, Mary and Barry sail on a ship, which sinks.
(First: Episode 1149)

Cartoon
A girl inflates a balloon in the shape of an S.
(First: Episode 0414)

Song
Joe Raposo sings "Look a Little Closer." (tomato)
(First: Episode 0147)




SCENE 6
Seen through the window of Gordon and Susan's apartment, the cast sings "Happy Birthday to You" (as "Feliz Cumpleaños") to Luis. Oscar the Grouch announces the sponsors and says he'll now go to the party (since he wasn't invited).
Community content is available under
CC-BY-SA
unless otherwise noted.