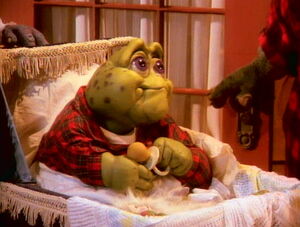 Planning for the Baby's first birthday, the Sinclairs discover evidence that their baby may have been switched with another baby while still an egg. Earl is tantalized by the notion that there is a more polite, well-behaved baby out there somewhere who might be his son. Fran is unwilling to even consider the possibility until she meets the other baby -- who looks just like the Sinclair baby except that he's green and wears the exact same shirt as Earl -- and the other father shares certain personality traits with the Sinclairs' baby. A DNA test proves that the other baby is their son. After spending time with Aubrey for a while, the Sinclairs begin to get a little annoyed with him for his complaining and him being a geek, so they go to see Solomon the Great, where the doctor reappears and says that the information was switched in fact that Baby is the Sinclairs' real son after all.
Guest Stars
Notes
Taped on October 28, 1991.
Video releases
Seen on TV
DTV (Dino Music Television), featuring Lyzzard Skyzzard performing I'm Better Than You.
Community content is available under
CC-BY-SA
unless otherwise noted.