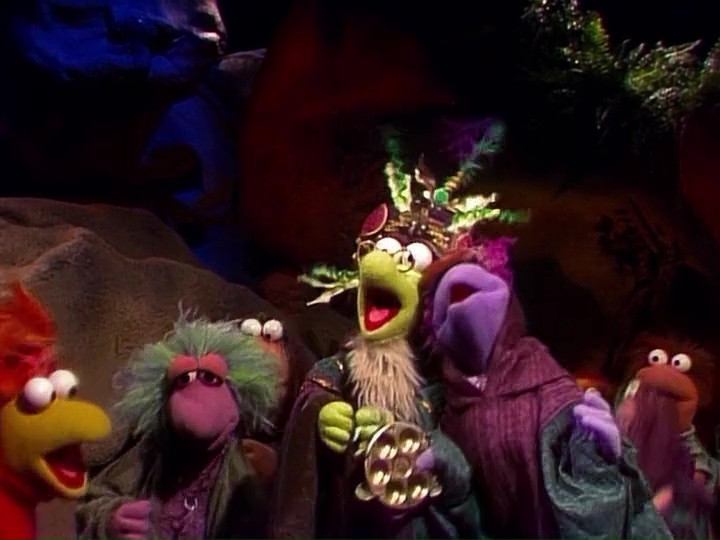 Wembley changes places with his lookalike, the traveling Wizard of Fraggle Rock, who says he wants peace and quiet. Wembley thinks his new disguise will be an easy way to get attention, but the Wizard has a sinister motive for wanting to swap identities. Wizard helps Wembley with his beard by using an experimental glue made by the Doozers. Things get worse when a Poison Cackler that had been chasing the Wizard shows up.
Meanwhile, Doc and Sprocket try a rope trick to start a magic act which goes horribly awry.
Fraggle Facts
On Trophy Day, every Fraggle gets to pick his own trophy, for whatever he feels proud of. In this episode, Gobo gets a trophy for seeing a poison cackler without it seeing him. Wembley chooses the same trophy he always chooses -- Best Shirt with Banana Trees on It.
Notes
This episode was co-written by John Pattison, a Fraggle Rock puppeteer who plays Henchy Fraggle and Begoony.
Is seems that Cotterpin is putting her own ideas into shape. In "All Work And All Play" she said that she likes hexagons. The Architect said that this wouldn't happen, yet the experimental Doozer tower can be seen with a hexagonal shaped top.
Supporting cast
Songs
Video releases
International episode titles
Community content is available under
CC-BY-SA
unless otherwise noted.