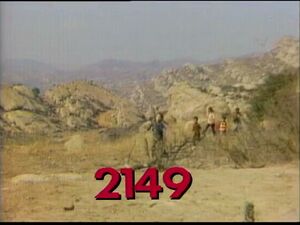 Picture
Segment
Description




SCENE 1
Maria greets the viewer, when a panicked Telly alerts her that something has happened to Desiree. Maria goes over to investigate, and Elmo says her tooth has come out. Maria doesn't think this is an emergency, because Desiree is the right age for losing her baby teeth. Telly and Elmo don't have teeth, but Elmo fetches some of his own – but he can't talk with them.

Cartoon
A goose and gander visit the land of the G's.
Artist: Jeff Hale
(First: Episode 1141)

Muppets
A shark sings about his "Perfecty Pearl-White Teeth."
(First: Episode 1446)

Cartoon
Letter G drawing with kid voice-over
(First: Episode 0306)

Film
A group of kids pick apples in an orchard, and take them into the cider mill to make apple cider.
(First: Episode 1585)

Cartoon
The front and back of a costumed horse follow an ice cream truck.
(First: Episode 0782)

Muppets
Ernie & Bert — Ernie and Bert build a snowman, but Ernie fears that the snowman will be cold if they don't dress him. Even though Bert tries to tell him that snowmen aren't alive and can't feel the cold, that doesn't stop Ernie from dressing the snowman in Bert's clothing.
(First: Episode 1824)

Cartoon
Christopher Clumsy jumps over a hole and says that he fooled the viewer. He then walks into a wall.
(First: Episode 0439)

SCENE 2
Snuffy puts on another Snufflepuppet show, hosted by Gus. First, they need someone who will guess which noises Big Bird makes. Big Bird invites Luis to play, because Snuffy is too shy to ask, but he Luis is too busy. Gus thinks Big Bird wasn't convincing enough, so Snuffy musters up the courage to invite Mrs. Trump, but she has to go shopping. Snuffy tells Gus to try inviting someone this time, so he invites Maria, but she's going to the hardware store. Big Bird has an idea of how to invite someone without asking…

Cartoon
Un pajaro.
(First: Episode 1977)

Film
Mad Painter #8
(First: Episode 0326)

Muppets
Old West: Clementine breaks the bad news to everyone: Bad Bart is coming to town to "give someone what they deserve"! She says he will come when the cow moos four times. They listen for it, and first hear a train toot four times, then a dog bark four times, and finally the cow. Bad Bart steps into the saloon, looks for the bartender, and reminds him that last week, he ordered sarsaparilla, but the bartender didn't have it, so he went to another town to get it, and kept him waiting. Bad Bart forgot to pay the bartender for it, so he gives the bartender what he deserves: some coins.
(First: Episode 1940)

Cartoon
A loud-voiced girl talks about her dog, Pete.
Artist: Bruce Cayard
(First: Episode 1266)

SCENE 3
Luis, Mrs. Trump and Maria stop at Big Bird's nest, where they hear noises coming from inside. This is part of Big Bird's plan to get them to play the noise guessing game, with help from Nicole. When they find out it's a game, they disperse angrily.

Cartoon
A mysterious little box on a tightrope entraps a bird, a train, and a cat, which can still be heard. A large frog eats the box, and makes all of the sounds inside.
(First: Episode 1518)

Muppets
Bip Bippadotta and The Androoze Sisters sing "Everybody's Song."
(First: Episode 2064)

Cartoon
A sleepy man counts 8 sheep.
(First: Episode 2113)

Film
As a boy plays with a tugboat in the bathtub, we watch footage of a real tugboat.
(First: Episode 0801)

Cartoon
Magical Herman's number trick
(First: Episode 0773)

Muppets
At a library, Cookie Monster asks an Anything Muppet librarian for a box of cookies. The librarian becomes extremely frustrated because Cookie Monster doesn't understand the library doesn't have cookies!
(First: Episode 0926)

Cartoon
"Candy Man"
Artist: Bud Luckey
(First: Episode 0359)

Muppets / Celebrity
Malcolm imagines a walk in the woods based on the music James Galway plays on his flute. His imaginary walk tuckers him out, so James plays him a lullaby.
(First: Episode 1423)

Cartoon
The man is only afraid of one thing: FEAR.
(First: Episode 0816)

Film
A lobster and a crab.
Music: Joe Raposo
(First: Episode 0317)

Muppets
Grover sees his shadow follow him around, and thinks it's a person following him. However, Herbert Birdsfoot explains what a shadow is.
(First: Episode 0221)

Film
Children on a playground form the letters of the alphabet.
(First: Episode 1966)

Cartoon
The Typewriter: D - Daisy
(First: Episode 0795)

Muppets
Muppet & Kid Moment — Kermit the Frog and Joey talk about body parts.

Cartoon
A gorilla names "G" words.
(First: Episode 1831)

SCENE 4
Gordon, Maria and Luis sing a song about elbows.

Cartoon
Jasper thinks that he has lost his elbow, but Julius shows him his elbow by bending his arm.
Artist: Cliff Roberts
(First: Episode 0410)

Song
Joe Raposo sings "Whale Brushing Teeth", with a film of a trainer brushing a whale's teeth.
(First: Episode 0276)

Cartoon
Crayon Animation Letter D
(First: Episode 1705)

Muppets
Ernie & Bert — Ernie makes a clay bust of Bert, but runs out of clay for the nose, so he pulls Bert's nose off and puts it on the statue.
(First: Episode 0463)

Cartoon
"Daddy Dear"
(First: Episode 0367)

Film
Lemurs leap and play in a zoo cage.
Music: Joe Raposo
(First: Episode 0032)

Cartoon
Are you the monster that ate the television?
(First: Episode 1970)

SCENE 5
Elmo encounters Piri and the kids watching a TV monitor, and makes some guesses about what show they might be watching. He turns around, and sees Piri reading a story to them instead. Luis announces the sponsors.
Community content is available under
CC-BY-SA
unless otherwise noted.