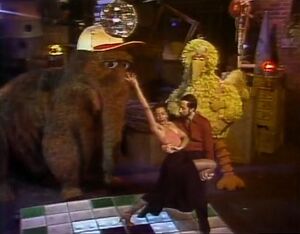 Big Bird is grooving to his "Rubber Duckie" disco record when Snuffy asks what disco is. Big Bird explains that discos are for grown-ups and take place at night, so they aren't able to see it first-hand. But, they can imagine it! In their imaginations, Big Bird's nest area has become a discotheque. After a couple dances on the lighted floor, Snuffy and Big Bird get their chance to show their stuff. Back in reality, Snuffy has learned a lot about disco and Big Bird compliments his big imagination. (First: Episode 1261)
Cartoon: A cat desperately tries to open a can of cat food by himself while his mistress is on the phone.
A ball goes up and down a musical staircase.
Community content is available under
CC-BY-SA
unless otherwise noted.