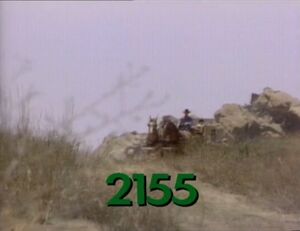 Picture
Segment
Description

SCENE 1
Big Bird and the Birdketeers show the viewer how "You Can Be a Birdketeer."

Film
Kids narrate a tortilla contest in English and Spanish.
(First: Episode 0456)

Cartoon
Gloria talks about 'W'
(First: Episode 0806)

Insert
Two sheep try to count a farmer Olivia going around a fence to make themselves fall asleep.

Cartoon
The story of sheep, or where wool comes from.
Artist: Bruce Cayard
(First: Episode 1524)

SCENE 2
Oscar and the Grouchketeers sing a grouchy version of Big Bird's Birdketeer song.

Cartoon
W for Wash
(First: Episode 0485)




Muppets
Ernie & Bert — When Bert can't sleep, Ernie suggests that he imagine himself doing something he likes. Since Bert likes ice skating, he imagines himself doing so. A full-bodied version of Bert is used in the ice skating sequence, in a clip from the Ice Follies show.
(First: Episode 0796)

Film
Kids play in the snow.
Music: Joe Raposo
(First: Episode 0292)

Muppets
The Two-Headed Monster builds a Two-Headed Snowman. It's missing noses; they fight over a carrot which breaks in half, solving the problem.
(First: Episode 1622)

Animation
Four airplanes take off one by one.
(First: Episode 1242)

Muppets
Kermit shows what's inside of Herry Monster using the X-ray machine.
(First: Episode 1974)

Cartoon
A pink circle splits into a cat, and a gray circle splits into a mouse.
(First: Episode 0452)




Film
Footage of an animal auction, where they auction off animals to dairy farmers and the like.
(First: Episode 0932)

Cartoon
A girl imagines what would happen if she were a piece of gum.
(First: Episode 0519)

Celebrity
Dizzy Gillespie plays his trumpet.
(First: Episode 2040)

Cartoon
A peasant tries to woo a pretty girl by reciting the famous "Roses are Red" poem. The lines are fed to him by a poet behind a bush, whom she eventually runs off with.
Artist: Irra Verbitsky
(First: Episode 2058)

Muppets
Alien Alphabet
(First: Episode 0277)

Film
Elephants (African percussion soundtrack)
(First: Episode 0389)

Muppets
Grover asks Little Jerry and the Monotones (who are tired and don't seem to care about what they are doing) to hold up signs with letters that make up the word "walk". When Grover tells them what it spells, they walk over him.
(First: Episode 0221)

Cartoon
How many legs does a horse have?
(First: Episode 1523)

Muppets
Grover walks past the letters that spell "walk" and tells the viewers what the word is. The letters then walk over Grover.
(First: Episode 0221)

Cartoon
A flea circus performs feats beginning with the letter F.
(First: Episode 0309)




SCENE 3
Micki's friend Tanya (Danielle Striker) waits in frustration by 123 Sesame Street, complaining to herself about how late Micki is for their meet-up. Grundgetta takes a liking to her and, going by Tanya's punk outfit, assumes she's a fellow Grouch. She strikes up some conversation with Tanya, when Micki rushes in. She explains she had to work late at the library and Tanya is instantly forgiving. Grundgetta can't stand that not only is Tanya's foul mood gone, but that she was partly responsible by being so friendly.

Animation
Carrot subtraction (4-1)
(First: Episode 1537)

Muppets
Cookie Monster goes to the bakery for a special birthday cookie. The baker lists all the ingredients of the cookie, as Cookie visualizes it. The visualized image looks so delicious that he eats it.
(First: Episode 0283)

Cartoon
W for Wilhelmina
(First: Episode 0512)

Muppets
Muppet & Kid Moment — Kermit demonstrates the concept of being next to someone, with assistance from Shola and Fannie.
(First: Episode 0553)

Cartoon
Cars WALK.
(First: Episode 0556)

SCENE 4
Micki shows Tanya around the street, when Elmo pops up, repeating a new word he's learned - original, though he doesn't know what it means. The teens show him a dictionary and look up the definition. Elmo is glad to say that this the "original word" he looked up in a dictionary.

Cartoon
Two heads think of F words, ending with "finished."
(First: Episode 0128)

Song
"Frog Kick"

Cartoon
The Funny Four tickles all the people and animals he sees. (edited)
(First: Episode 1653)

Muppets
Ernie & Bert — Bert tells Ernie to make a grocery list, but Ernie can't find anything to write with ... except for chocolate pudding. (Bert: "He's improving. Last time he used spaghetti sauce.")
(First: Episode 1967)

Cartoon
Slot-machine legs: Cowboy & horse
(First: Episode 1702)

Cast
Luis tosses and turns in bed. Gordon hawks a sure-fire method of getting to sleep - counting. Luis orders Gordon to leave the bedroom in ten seconds, then falls asleep after counting.
(First: Episode 1487)

Cartoon
A painter paints all around the screen, eventually painting over himself.
Music: Joe Raposo
(First: Episode 0243)




SCENE 5
Tanya wonders if Grundgetta ever gets tired of being grouchy all the time. Grundgetta and her back-up grouches tell the teens that "Grouch Girls Don't Wanna Have Fun." Micki and Tanya dance to the song, to Grundgetta's disappointment, before they head back to Tanya's place. Grundgetta and her girls stay to practice their choreography while Big Bird announces the sponsors and the credits roll.
Notes
Producer Lisa Simon later commented that the show "went too far" by featuring a punk rocker in this episode. Joan Ganz Cooney, who watched from home long after the episode had gone through the writing and production process, suggested that the Tanya character never be used again, stating that it "was not an image the show wanted to promote." Simon continued, "We were trying to keep current. We have to keep in mind that it really isn't a New York show."[1]
Sources