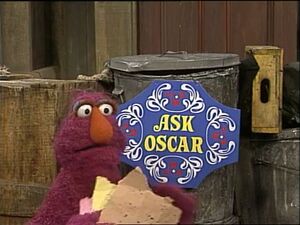 Picture
Segment
Description




Insert
Big Bird wishes Luis, Gordon, the kids, Mr. Macintosh, Barkley, Olivia, and the viewer good morning. He sings "Good Morning Mr. Sun" afterwards.

Cartoon
A man learns that it's better not to pick the flowers.
(EKA: Episode 0808)

Song
Joe Raposo sings "Me."
(First: Episode 0421)

Muppets
Kermit at Home: While Kermit is at home typing his autobiography, salesmonster Telly comes to his doorstep and asks if Kermit wants to buy a head warmer. Telly keeps worrying he's not doing a good job, and that Kermit won't want one. But Kermit reassures him that since he does have a head, he will have a use for a head warmer, unlike the things Grover sells (toothbrushes, earmuffs, and nose warmers). When Kermit puts the head warmer on, it covers his entire head. Telly remarks, "Kermit! It's -- it's you!"
(EKA: Episode 2124)

Cartoon
A mouse is squashed between two elephants.
(First: Episode 0779)

Muppets / Celebrity
The Two-Headed Monster disagrees on whether to sing or say the alphabet. Jane Curtin resolves the fight by singing the Alphabet Song. When the monster asks Curtin to join in, all three end up speaking in the same monster language! (references to Curtin playing Cinderella cut)

Cartoon
Cloud blows things FFFFFFFF
(EKA: Episode 1008)

Film
Trees are very nice places, for animals and for people.
(First: Episode 0455)

Cartoon
F stands for flower, forest, fox, frog and fantastic.
(First: Episode 1102)

Muppets
"I'm Between"
(First: Episode 1233)

Cartoon
B is for bubbles, bubbles and more bubbles. And Bosco, who is taking a bath.
(First: Episode 0355)

Muppets
Ernie & Bert — Ernie wears socks on his ears and on his nose in order for Bert to guess which body part he's thinking of.
(EKA: Episode 1732)

Cartoon
Counting 1 to 6 with fruits and veggies

SCENE 1
Telly asks Gordon if he spends too much time worrying. Gordon assures him that he just happens to feel one feeling very strongly and everyone does it, especially the Heartstrongs...




Cast
The Heartstrongs, Part 1

In this soap opera parody, Mr. Heartstrong (Gordon) fusses over the loss of his red shoelace along with Mrs. Heartstrong (Susan). They both feel sad until their son Barnaby (David) comes downstairs! What a surprise! But that feeling doesn't last long, as he soon learns of the lost shoelace. As it turns out, he came downstairs to change shoelaces in order to play baseball.

Could this be a clue to the whereabouts of Mr. Heartstrong's lost one?

Cartoon
What Do You Do With a Pet?
(First: Episode 0465)

Muppets
"Fat Cat"
(First: Episode 0536)

Cartoon
Which legs belong on the man?
(First: Episode 1691)




Cast
The Heartstrongs, Part 2

In the thrilling conclusion, the doorbell rings! Who could it be at the door?

It's Cousin Henry (Uncle Wally), who drops in for a surprise visit, which quickly becomes somber when the lost shoelace issue is brought up again.

Just then, Mr. Heartstrong remembers what Barnaby said about a shoelace that didn't match, and as luck would have it, the missing shoelace is in Barnaby's left sneaker! This makes everyone happy!

Cousin Henry pulls the snake-in-the-can trick on Barnaby, which gives everyone another nice surprise! "Woo woo!"

Cartoon
A drowsy wagoner gets across a clearing by building a bridge out of his ox-cart, and converting it back again.
Artist: Bruce Cayard
(EKA: Episode 0815)

Cast
Charlie Chaplin (Maria) illustrates the number 6 using balloons.

Film
The walrus
(First: Episode 0296)

Muppets
Ernie sings about "The Insects in Your Neighborhood."
(First: Episode 1887)

Cartoon
Speech Balloon: B for Bug (edited)
(First: Episode 0355)

Muppets
Simon Soundman sounds out the word "call", and then demonstrates some calls of his own - including a bird call, cow call, pig call, and telephone call. (remake)

Cartoon
"I'm six years old today!"
(EKA: Episode 0302)

SCENE 2
David happens upon the day's Grouchketeer meeting, where Oscar has prepared a lecture on the four, basic, Grouch food groups - sticky, gloppy, oozy and noisy foods. David can't help but interject with queries on nutrition. They all start munching down on items from the "noisy" group with plans to eat them at the movie theater.

Cartoon
"Name That Food" game show hosted by Don Carrot
Artist: Elwood Smith
(First: Episode 1491)

Film
Several people help a man when his car is stuck in the mud.
(First: Episode 0619)
Cartoon
B for Beard (poem by Edward Lear)
Artist: Jeff Hale
(EKA: Episode 1538)

Muppets
The Two-Headed Monster sound out the word "bed."

Cartoon
A girl sorts everything she finds which is alive and not alive.
(First: Episode 1526)




Muppets
Camp Wannagohoma: Grover tries to show the campers what is alive in the forest, but they keep correcting him.

Animation
See the lion walk.
(EKA: Episode 1015)

SCENE 3
Ask Oscar
Telly gets a letter asking if Grouches like to have discussions. Howver, Oscar won't come out of his trash can, and refuses to discuss the question.

Cartoon
Various sounds are demonstrated, including an alarm clock, a baby crying, a telephone, a faucet dripping, and a boy sneezing.
Artist: Irra Verbitsky
(First: Episode 1483)

Muppets
Three witches attempt their own individual spells, which don't work out to their liking. They decide to cooperate by bringing all of their ingredients together, thus making chicken soup.
(First: Episode 0407)

Animation
The Queen of Six explores her garden.
(EKA: Episode 0234)

Cartoon
B for boot

Film
The crosswalk light says WALK.
(EKA: Episode 0926)

SCENE 4
Oscar is ready to have a discussion and asks Telly a series of questions on subjects he doesn't want to discuss. Gordon announces the sponsors.