The Spoon in the Stone
When Kermit tells a story about the Spoon in the Stone, Animal, Gonzo, and Piggy race off on a quest to become the greatest knight. Rowlf, Rizzo and Dot the Dragon also appear. Phineas T. Cup appears as a fountain statue.
Song
Kermit the Barde narrates the story in song to a repeating tune. In the end, the other characters chime in.
Gonzonocchio
When Gonzo loses his library book, he tells tall tales to cover the truth. Mr. Manny, Bunsen and Beaker, Camilla, Priscilla, Beep, and the Bad Eggs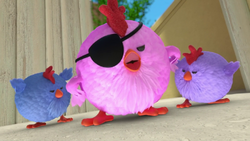 also appear.
Song
Notes
Both titles and their respective storylines are spoofs of literary works: "The Spoon in the Stone" spoofs the legendary King Arthur saga (and particularly the T. H. White novel The Sword in the Stone), while "Gonzonocchio" spoofs Pinocchio.
Sources