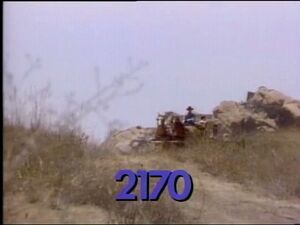 Picture
Segment
Description

SCENE 1
In song, Big Bird shows Elmo the difference between "Big and Small."

Cartoon
Things say that other things are small, but then something comes along that's bigger, or smaller, or whatever.
(First: Episode 0320)

Film
EXIT
(First: Episode 0935)

Cartoon
Elephants have 4 legs.
(First: Episode 0560)

Muppets
Sesame Street News Flash
Old MacDonald says a spaceship has landed on his farm. A dog emerges with a frisbee in its mouth, and MacDonald mistakes the frisbee for the spaceship. But before long, a real spaceship lands on the farm, and out of it come the Martians. The scene ends in chaos.
(First: Episode 2021)

Cartoon
A lost man (voiced by Jim Thurman) describes what a city is to a man who turns out to be an alien.
(First: Episode 0763)




Insert
Gordon reads the kids Home Run on the Range starring Forgetful Jones.
(First: Episode 1964)

Cartoon
R is for Rooster, and Robber, and Rake ...
Artist: Fred Calvert
(First: Episode 0011)

Muppets
Ernie & Bert — Ernie tries to use a scale to divide the cherries evenly, but he characteristically eats them all. Bert screams and faints.
(First: Episode 1386)

Cartoon
It's a whale
Artist: Ishu Patel
(First: Episode 1684)




Song
Joe Raposo sings "Whale Brushing Teeth," with a film of a trainer brushing a whale's teeth.
(First: Episode 0276)




Muppets
Sesame Street Game Shows: The Count is a contestant on Beat the Time, where today's wacky stunt is to bring back two things that come from the sky before the time runs out. The Count has too much fun counting the seconds, but ends up bringing his thunder and lightning.
(First: Episode 1698)

Animation
3 balls + 1 = 4.
(First: Episode 0278)

Insert
Issac pretends to be a doctor while Telly Monster pretends that Freddy is a patient receiving a check-up.
(First: Episode 2095)

Film
A trip to the doctor's office.
Music: Joe Raposo
(First: Episode 0471)

Cartoon
Madrigal Alphabet
Artist: Jeff Hale
(First: Episode 0615)

Cast
Luis looks for the exit in a brick room.
(First: Episode 0407)

Cartoon
A girl has trouble closing her suitcase after she's packed it, but has help from her four-legged friend.
(First: Episode 1469)

Muppets
Cookie Monster sings "If Moon Was Cookie."
(First: Episode 1789)

Cartoon
Poverty T
(First: Episode 0020)
Film
Scuba diver - on, into, under, through, around
Music: Joe Raposo
(First: Episode 0516)

SCENE 2
Bob encounters Tyler the tailor, wheeling a clothing rack. Tyler explains that he's a traveling tailor, meaning he brings clothes to customers instead of them picking up from him. All the clothes he has begin with the letter T – ties, a tuxedo, a tutu, turtlenecks, a trenchcoat, and two t-shirts. Bob then spots a shirt, jacket and sweatshirt, which don't start with T, but Oscar informs Bob that they're torn, tacky and tattered.

Cartoon
La letra T es para tigre, tomate, taxi, toro, telefono, televisión, y el terrible tiburon.
(First: Episode 0351)

Song
Joe Raposo sings "Families."
(First: Episode 0454)

Muppets
Waiter Grover prepares a table for a family who's celebrating their grandmother's birthday, but Grover doesn't know her name, so when each family member refers to her as a different relative each time, Grover thinks there's more than one party going on, so he ends up bringing out seven cakes.
(First: Episode 1958)

Cartoon
A boy learns to play his violin.
(First: Episode 1513)

Film
Knock knock. Who's there? The woodpecker!
(First: Episode 0437)

Cartoon
Can you think of words that rhyme with BALL? (voice of Daws Butler).
(First: Episode 0773)

SCENE 3
Oscar shows Maria his rhyming machine, which says a word that rhymes with whatever he says. Maria says "me", and the machine's voice spews out many words that rhyme with "me". Maria says "stop" and "enough", and the machine does the same, driving her away.

Film
Slide puzzle - boy
(First: Episode 0428)

Muppets / Celebrity
Tony Danza and Big Bird play tennis without a ball, and count twenty hits, while Kevin Clash announces.

Cartoon
Ella juega tenis (sand)
(First: Episode 2111)

Muppets
Ernie & Bert — Ernie wants to go outside and play catch, but Bert gets him interested in watching his goldfish.
(First: Episode 1422)

Film
Four Song (Song of Four)
(First: Episode 0006)

Cartoon
A boy puts together a fishbowl, and watches his fish swim around in it.
(First: Episode 2030)

Insert
Jerry Nelson narrates three letters coming together to form the word FUN. The letters celebrate with confetti and streamers.
(First: Episode 0458)

Cartoon
Jasper thinks that he has lost his elbow, but Julius shows him his elbow by bending his arm.
Artist: Cliff Roberts
(First: Episode 0410)

SCENE 4
Mr. MacIntosh hands out fruits from his cart, including a rotten banana for Oscar. Elmo announces the sponsors, and the credits roll.
Community content is available under
CC-BY-SA
unless otherwise noted.