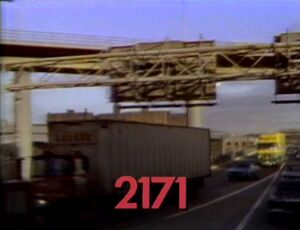 Picture
Segment
Description

Insert
Gordon comes across a very happy Forgetful Jones, who can't remember why he's so happy. Gordon helps him remember that it was because of the sunshine, the breeze, the swaying trees and the sound of his heartbeat, all in time with each other. Forgetful observes, "Can you imagine me forgetting simple things that make me happy?"
(First: Episode 1839)

Cartoon
Jive Five
(First: Episode 1664)

Muppets
The Two-Headed Monster acts out different feelings.
(EKA: Episode 1982)

Cartoon
A cowboy sings about "Feelings That Are Real."
(First: Episode 0954)

Film
In a gymnasium, a teacher and some kids play catch with a balloon.
(First: Episode 1088)




Muppets / Cast
Ernie & Bert — Ernie and Bert go see a silent movie, "The Picnic" (starring Maria as Chaplin and Linda as the girl).
(First: Episode 2071)

Cartoon
Five Swans
Artist: Owe Gustafson
(First: Episode 1460)




Insert
David struggles to roller-skate down Sesame Street. Big Bird helps him to Hooper's Store and reminds him that "practice makes perfect." David imagines being a great skater: in his fantasy, he roller-skates through Central Park with ease. Back in reality, David skates on his own and falls down, but he doesn't mind.
Music: "What Makes Music?"
(First: Episode 1559)

Cartoon
A cat makes noise with a telephone, typewriter, trumpet, and piano. When the cat leaves, the devices come to life, and when he comes back, they all sound at once, frightening the cat.
(First: Episode 0844)




Muppets
Bushman Bill introduces Didi O'Day and the Dew Drops performing "D Duah Duah."
(First: Episode 1449)

Cartoon
D-dart
(First: Episode 0292)

Film
A girl catches a lobster.
(First: Episode 1125)

Animation
Sand D/d
(First: Episode 0640)

Insert
Alaina Deleon does some speed jump-roping with the Double Dutch Jumpers.
(First: Episode 1424)

Cartoon
A caveman sits on what he thinks is a rock, not realizing that it's a dinosaur, which is alive.
(First: Episode 1737)

Muppets
Ernie & Bert — Bert can't go on a trip with Ernie because his hand has purple paint on it. Ernie puts a mitten on Bert's hand to cover it, but Bert still won't go because he looks silly wearing one mitten. So Ernie completes the outfit with another mitten, a hat, a scarf, and a sled. Ernie then reveals that they are going to the beach.
(First: Episode 0386)

Animation
The inhabitants of a farm feel like celebrating when it rains during a hot, dry summer.
(First: Episode 1403)

Film
A CERRADO sign spins around. A girl tries opening the door, but it's closed.
(First: Episode 0937)

Cartoon
W for Wilhelmina
(First: Episode 0512)

SCENE 1
Slimey is going to see a movie at the new Cineworm 1234 theater. Oscar peeks in to watch as well...




Cartoon
W is for Worm
(First: Episode 0001)
The segment is preceded by an MGM logo spoof with a worm instead of the lion.

SCENE 1 cont'd
After the film, Slimey gets so excited, he wants to see it again.

Cartoon
A monster sees a box that keeps opening and closing, saying "Abierto" and "Cerrado."
(First: Episode 0771)

Muppets / Celebrity
Sesame Street News Flash
Kermit points out the different parts of ballet dancer Suzanne Farrell's body, and watches her use them to drink a glass of milk.
(First: Episode 1387)

Cartoon
"One to Five Counting Animals Song"
(First: Episode 0780)

Song
"My Sister and I"
(First: Episode 1643)

Cartoon
A janitor sweeps up his own footprints the wrong way, then the right way. Just then, a giant centipede leaves tracks all over the floor.
Music: Joe Raposo
(First: Episode 0247)




Muppets
Luis reads the story of "The King Who Ate Only Chicken."
King Richard the Chicken-Hearted does not know of any food other than chicken, thus he eats it for every meal. Seeking a change, he initiates a "New Royal Food Contest," with a hefty reward (half the kingdom and a trip to Bermuda). His subjects bring him many healthy foods and the King enjoys them all. They convince him to eat all the foods together, thus making a healthy meal and a healthier king.
(First: Episode 1910)

Cartoon
The alphabet is presented in a chain reaction of events.
(First: Episode 1113)

Film
A figure skater illustrates forward and backward.
(First: Episode 0500)

Muppets
An Anything Muppet boy teaches "forward" and "backward" with a group of Muppets who keep running over the boy when his back is turned.
(First: Episode 0069)

Cartoon
"Daddy Dear"
(First: Episode 0367)

SCENE 2
Olivia, Maria, Susan, Gordon, and David sing about having an old-fashioned "Sunday Dinner."

Film
A group of kids pick apples in an orchard, and take them into the cider mill to make apple cider.
(First: Episode 1585)

Cartoon
A troll draws different faces on herself in front of a mirror.
(First: Episode 0800)

Muppets
Sesame Street News Flash: The first day of school in history
(First: Episode 1953)

SCENE 3
The gang sets up their Sunday dinner outside in the yard and begin to dig in.
Community content is available under
CC-BY-SA
unless otherwise noted.