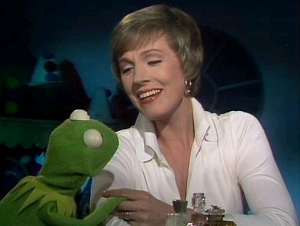 There's a cow backstage, and Kermit and Scooter try to figure out where it came from. The Swedish Chef plans to cut it up and cook it, and the Flying Zucchini Brothers shoot it out of a cannon. At the end, Julie complains to Kermit that she seems to have lost her cow.
Songs/Sketches
Notes
This episode is another step in the season's continuing saga of Gonzo's love life. After attempting to make a date with the cow, this is the first episode in which he finds love with a Muppet chicken.
Cast
Muppets:
Kermit the Frog, Miss Piggy, Fozzie Bear, Gonzo, Scooter, Rowlf, Statler and Waldorf, Annie Sue, The Newsman, Robin the Frog, Slim Wilson, Lou, Sam the Eagle, The Swedish Chef, Dr. Bunsen Honeydew, Beaker, The Flying Zucchini Brothers, Sweetums, Lubbock Lou and his Jughuggers, Timmy Monster, Big Mama, Doglion, The Mutations,
Background Muppets:
Performers
Edits
Nickelodeon: Sam's speech about ecology was cut.
CTS: The UK skit Borneo is cut.