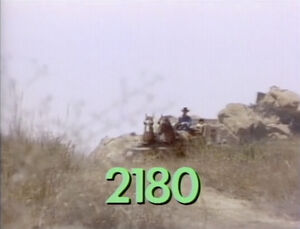 Picture
Segment
Description




SCENE 1
In Hooper's Store, Forgetful Jones struggles to remember how to welcome the viewer, but he succeeds: he remembers the viewer, to say "Howdy," the street name and his own name! Linda comes by to congratulate him in sign language. Next he manages to remember the next sketch on the show.

Muppets
Ernie & Bert — Ernie decides to set up an apple-selling stand, and has everything he needs, leaving out the apples.
(First: Episode 1219)

SCENE 2
Forgetful is excited about remembering the Ernie and Bert sketch (except that he was wrong about there being a boat in it). "That's why they call me Remembering Jones," he says. David suggests that even though he's really named Forgetful, he doesn't always forget things. To David's astonishment, he recites the entire alphabet, although neither of them can remember why he does.

Film
Children on a playground form the letters of the alphabet.
(First: Episode 1966)

Animation
Two small stripes watch as two circles play with each other. The stripes try to bend themselves into circles, but soon find that they can both cooperate to make one big circle.
(First: Episode 0762)

Film
Where the buffalo roam ...
(First: Episode 0510)

Cartoon
A minstrel sings about a fox who outsmarts a crow.
Artist: Etienne Delessert
(First: Episode 0631)

Muppets / Celebrity
Carol Channing sings a spoof of "Hello, Dolly!" with Sammy the Snake, praising his ability to look and sound like an S.
(First: Episode 1951)

Cartoon
S for Snail
Artist: Jeff Hale
(First: Episode 1158)




Insert
While Oscar tends to his hungry elephants, Maria reads a crying Irvine the story of "The Princess and the Mattress." In the story, a lonely Grouch prince (Oscar) is tired of arguing with himself and wants a wife. To find the Grouchiest girl in the land, he creates a test - he covers a soft mattress with bricks and since Grouches hate soft things, the perfect girl will be able to notice the soft mattress underneath. A princess arrives (Grundgetta) and heads to the bed for a rest, noticing the soft mattress. The two argue happily ever after.
(First: Episode 1723)

Cartoon
A magician writes in his diary about the many mishaps during his performance.
(First: Episode 2053)

Muppets
Super Grover: Janet Fringle needs help carrying many boxes. Super Grover suggests gluing them together, but she eventually figures out that taking them one at a time will work.
(First: Episode 0588)

SCENE 3
Luis asks Forgetful what he's doing up in a tree. It's time to announce the letter of the day, and Luis hints that it's the first letter of the words "secret," "Sesame" and "Street." He remembers it was S, but if only he could remember what he was doing up a tree.

Cartoon
Six snakes spent Saturday on the sand.
(First: Episode 1669)

Film
A film of butterflies
Music: Joe Raposo
(First: Episode 0406)

Cartoon
Leaves falling.
(First: Episode 1822)

Film
A flower opens and closes.
(First: Episode 0441)

Cartoon
Would you mind closing our OPEN?
(First: Episode 0512)

Muppets / Cast
Oscar sings "One of These Things" over a four-way split screen containing Gordon, Bob, David and Slimey, all dressed in tuxedos.
(First: Episode 1904)

Cartoon
A peasant tries to woo a pretty girl by reciting the famous "Roses are Red" poem. The lines are fed to him by a poet behind a bush, whom she eventually runs off with.
Artist: Irra Verbitsky
(First: Episode 2058)

Film
A construction machine and a horse look similar.
(First: Episode 1566)

Cartoon
Typewriter: S for spring
(First: Episode 0792)




SCENE 4
Forgetful asks Big Bird to translate what a bird tweeted at him, but it doesn't make sense. He remembers it had something to do with a game. Then he falls out of the tree (and continues to hear birds around his head).

Animation
Red and yellow dots play "Twinkle Twinkle Little Star."
(First: Episode 1979)




Muppets
Game Show: The How Many Game??
Guy Smiley tells The Two-Headed Monster to find two things in 30 seconds. They bring one bowling ball, four sheep and three cows, all of which don't count. Suddenly, they realize they have two heads, which means they win! Little Bo Peep appears looking for her sheep, a train appears out of nowhere, and the scene ends in chaos.
(First: Episode 2076)

Cartoon
Train #2
(First: Episode 0353)

Cast
Maria, David and Olivia compete to see who can jump the farthest.
(First: Episode 1497)

Film
Russian nesting dolls 10-1
(First: Episode 0563)

SCENE 5
In Big Bird's nest, Forgetful sings "One of These Things" with three Birdketeers. Big Bird tells him that he could be a Birdketeer, even though as a cowboy he didn't belong.

Cartoon
S for sing
(First: Episode 0824)

Muppets
Bert is out of town, so Cookie Monster spends the night with Ernie. Cookie is frightened of a shadow on the wall, but Ernie shows him it's just a coat on a chair.
(First: Episode 2027)

Film
George the Farmer demonstrates up/down with two ladders.
(First: Episode 0239)

Muppets
Later, Cookie Monster has a bad dream in which he is surrounded by flying, singing cookies who won't let him catch them.
(First: Episode 2027)

Cartoon
A painter paints all around the screen, eventually painting over himself.
Music: Joe Raposo
(First: Episode 0243)

SCENE 6
The Birdketeers have hopping practice before they sing "The Birdketeer Song." Big Bird teaches it first, but Forgetful can't remember all the lyrics on his first try.

Cartoon
A story about an ape and a bird, using the letter A.
(First: Episode 0158)

Muppets
Kermit, Farmer Grover and a horse show how a horse-and-cart works.
(First: Episode 0590)

Animation
A kerosene lamp assembles itself in stop-motion.
(First: Episode 1473)

SCENE 7
The peeping and chirping Birdketeers start their "first meeting of the new season," Luis announces the sponsors and the credits roll.
Community content is available under
CC-BY-SA
unless otherwise noted.