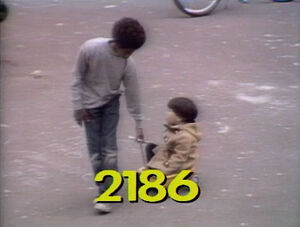 Picture
Segment
Description




Muppets
Snuffy shows Big Bird the cloud costume he's going to wear in his Snufflegarten class's upcoming pageant about the sky, and even sings the song that accompanies it, while Big Bird imagines him as a cloud.
(First: Episode 2082)

Film
An I-beam is molded at a steel factory as heavy industrial-type music underscores the action. The segment ends on a video freeze of the finished beam, which is shaped like the letter "I."
(First: Episode 1077)

Muppets
Harvey Kneeslapper asks a man, "Do you want me to keep an eye on your hat?" The man says yes. Harvey then puts a letter I on top of the man's hat, crushing it in the process.
(First: Episode 0288)

Cartoon
A person of short stature tries to get on top of a horse.
(First: Episode 1450)

Film
Olivia (in voice-over) identifies different vegetables.
(First: Episode 1612)

Muppets
Sesame Street News Flash: Kermit is interviewing Cinderella and Prince Charming, who are dancing at the ball. After Cinderella leaves, she leaves one glass slipper behind. The prince wants to find Cinderella...so he can have the other glass slipper.
(First: Episode 0516)

Film
Kids at school help make cornbread.
(First: Episode 1218)




Insert
Oscar hosts "Real Grouches," the show that showcases talented Grouches from around the world. First, Romeo Scuggs plays his screechy violin. Then, Luba Merquick performs a song on a screechy blackboard. Finally, the mysterious "Bob the Blob" appears, playing a nice song on his flute. It turns out to be Bob in disguise.
(First: Episode 2147)

Cartoon
Six camels
Artist: Owe Gustafson
(First: Episode 1503)

Muppets
Grover's rowboat - part 1
Grover and a group of monsters, including Herry Monster, Fenwick and Billy, get into a rowboat. The monsters all gather at one end, causing the boat to tip over and sink.
(First: Episode 0281)

Cartoon
A young bespectacled man with an accordion asks how much it costs to cross the bridge. The Bridgekeeper says admission is free, but requires that the young man show him three triangles. Two of them are found in the bridgework, and the man uses the bridgekeeper's staff to draw a third triangle in the dirt. Although the bridgekeeper has his order filled, he asks the man to play a tune on his accordion. This additional request takes the young man by surprise, but he is told to do so for the opportunity to cross the bridge.
(First: Episode 1572)

Muppets
Grover's rowboat - part 2
The monsters gather on the other end of the boat, and it sinks again.
(First: Episode 0281)

Cartoon
A boy and a dog fight over a letter "I."
(First: Episode 0143)

Muppets
Grover's rowboat - part 3
The monsters finally spread out over the boat evenly, and row away.
(First: Episode 0281)

Song
"Me and My Chair"
(First: Episode 1706)

Cartoon
An elephant (voiced by Marshall Efron) asks Nesbitt (voiced by Don Arioli) for directions to the zoo, but won't listen to him long enough.
Artist: Janet Perlman
(First: Episode 1631)

Celebrity
Loretta Lynn sings "Songs Are For Singing" to some kids.
(First: Episode 2010)

Cartoon
A cat desperately tries to open a can of cat food by himself while his mistress is on the phone.
Artist: Dan Haskett
(First: Episode 2151)

Film
Parts of a clown are shown in close-up as kids guess what it is.
Music: Joe Raposo
(First: Episode 0428)

Animation
Sand V/v
(First: Episode 0637)

Cast
The Great Addini (Maria) performs her famous bottle-balancing trick with her assistant Bill (David), who is doubtful the stunt will work.
(First: Episode 1937)

Cartoon
"Pinball Number Count" #6
Artist: Jeff Hale
(First: Episode 0983)

Insert
Jump Insert C - Turning
(First: Episode 1424)

Film
Kids compete in a speed skating competition (version two).
Music: Joe Raposo
(First: Episode 0414)

Muppets
Kermit attempts to direct a scene from Goldilocks and the Three Bears, but he is having problems with both the stagehand and Goldilocks, who has problems showing surprise and fear.
(First: Episode 2151)

Cartoon
The dot gets on top of the lowercase letter i.
Artist: Fred Garbers
(First: Episode 0462)

Film
A male frog hops around and bulges his throat.
(First: Episode 0469)

Cartoon
Speech Balloon - I: An iron irons the word.
(First: Episode 0314)

Muppets
Ernie counts 3 Honkers as they arrange themselves in different ways.
(First: Episode 1746)

SCENE 1
Elmo zips in and out of the Fix-It Shop, bringing items that rhyme with whatever Luis says (to his dismay).

Cartoon
Two people think they hear a BARK in the DARK.
Artist: John Korty
(First: Episode 1941)

Muppets
"The AN Family Song"
(First: Episode 0181)

Cartoon
One of these shoe pairs ...
(First: Episode 0503)

SCENE 2
Luis has tried to stop Elmo from playing his rhyming game, but each response has been met with yet another rhyming object. He thinks he's stumped Elmo by ending a sentence with Elmo's name, but Elmo comes back with his cousin Zelmo (one of many rhyming cousins he has). "Oh no," says Luis, prompting Elmo and Zelmo to go find some snow.

Animation
Three balls compare sizes. An orange ball (voiced by Daws Butler) boasts that he's the smallest, until his little brother comes onto the scene.
(First: Episode 0786)

Muppets
Grover applies to be a lifeguard, demonstrating to the employer that he has what it takes. He soon learns that there's only one thing he needs: swimming lessons.
(First: Episode 1951)

Cartoon
A mouth whistles Beethoven's Symphony No. 5.
(First: Episode 2086)

SCENE 3
The Fix-It Shop is filled to the brim with various things Elmo has fetched for his rhyming game. Luis finally finds a way to get it to end - by not speaking at all. He communicates silently with Elmo that he doesn't want to play anymore and wants all the stuff removed. He ends up speaking again and Elmo switches the game around, now removing an item that rhymes with what Luis says.

Animation
Six spaceships are counted, then subtracted.
(First: Episode 1245)

Muppets
Muppet & Kid Moment — John-John and Herry Monster count to twenty.
(First: Episode 0441)

Film
A man makes a shadow puppet of a rabbit.
(First: Episode 0614)

Cartoon
Two men, one named Virgil Veep, discuss the letter V as they stand atop a capital V.
(First: Episode 0110)

Transition
Bridge #9 - Rectangle Bridge C
(First: Episode 0290)

SCENE 4
The shop is now emptied of all Elmo's things. Maria comes by and Luis tries to explain how his day is gone. Maria thinks handling Elmo is easy and when he returns, he fetches a shoe to rhyme with Maria's greeting. Sensing a pattern, Luis makes his escape as Elmo explains the game to Maria.
Community content is available under
CC-BY-SA
unless otherwise noted.