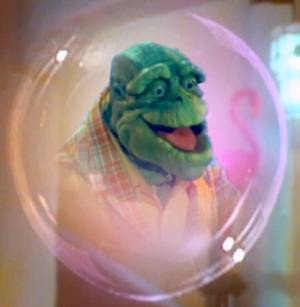 Ethyl's near death experience lands her a television show pitching the afterlife.
Story
While Fran and Baby go to the swamp, Ethyl decides to stay at home and watch the Professional Grass-Growing Association on the kitchen TV. Earl and Roy stay in as well, watching TV in the living room. Ethyl passes away, and Earl realizes this when Ethyl fails to insult or hit him when he goes into the kitchen. He and Roy waste no time in burying her.
Meanwhile, Ethyl arrives in the afterlife, only to discover that it is not her time yet. She returns to mortal life and manages to dig herself out of her grave, where she fascinates the family with tales of the afterlife. She is soon recruited to appear on the TV show Mysteries That Haven't Been Solved Yet, and thence to her own TV show. However, Fran begins to worry of the effect Ethyl's show will have on simpleminded people, and Ethyl's show is clearly trying to swindle people out of their money.
Ethyl dies again on the set of her show, and again goes to the afterlife. She sees her deceased husband, Grandpa Louie, who reiterates that it is not her time. Louie tells Ethyl that although she is fascinated with the afterlife and wants to be with Louie, she needs to enjoy the rest of her life, as it's the only one she'll get. He also cautions her against using the afterlife for monetary gain, saying she might end up in someplace "Not So Nice" (a room full of Earls). Ethyl again returns to mortal life, vowing to start living her life.
Guest Stars
Notes
Taped on December 20, 1991.
Earl and Fran's discussion on whether a puppet show can be enjoyed by adults as well as kids is similar to a conversation they had in How to Pick Up Girls.
Video releases
Community content is available under
CC-BY-SA
unless otherwise noted.