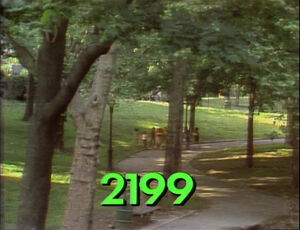 Picture
Segment
Description




Insert
While Oscar looks for some Grouch literature at the library, Gilbert and Sullivan and the cast sing about what else he can find "At Your Library".
(First: Episode 1908)

Cartoon
A mouse tries looking for his pet, describing to his friend what they did yesterday.
(First: Episode 0764)

Muppets
Clementine reminds Forgetful Jones to call his cousin on her birthday (even though he's got a ribbon tied to his finger and to the phone). When he calls, his equally forgetful cousin doesn't remember having a cousin, and asks him to describe what he looks like.
(First: Episode 1657)

Film
Things that start with M
(First: Episode 0620)

Animation
A montage of boys, all of whom are named Joe, saying what their favorite sports are. The last one turns out to be a girl named Joanne.
Artist: John Korty
(First: Episode 1871)




SCENE 1
At the library, Telly Monster looks for a book called The Book of Trees. Micki helps him look in the section it should be in, but it's not there. They consult with Linda, who searches for the book in the computer database. She finds the book is already checked out...to Telly, and it's due today. Telly knows all that already; he just doesn't remember where the book is. They discover it was in his backpack the entire time.

Animation
New Ball in Town: Three striped balls encounter a polka-dotted ball.
(First: Episode 0777)

Muppets
"M-M-M Monster Meal"
(First: Episode 0380)

Cartoon
A painter pops out of a box and paints a lion, then hangs a "wet paint" sign on it.
(First: Episode 1397)

Film
Kids narrate a film of an African plain and the animals that live there.
(First: Episode 0128)

Cartoon
Monster in the dark (finding a light switch)
(First: Episode 0493)

Muppets
The Two-Headed Monster shares a bathtub and help each other get clean. They are discouraged when they are finished and drain the tub, but find joy in drying.
(First: Episode 1449)




SCENE 2
Maria finishes painting a chair for Mrs. Osborne, when Elmo comes by, eager to play a game. Maria proposes a guessing game where Elmo must figure out where her WET PAINT sign must go. Elmo is given many clues, not catching on that the painted chair is where the sign goes. He eventually places the sign on the paint bucket, which is full of wet paint. Maria admires Elmo's creativity, inadvertently leaning on the chair and covering her arm with paint.




Muppets
SMV (Sesame Music Video) introduces the latest video from How Now Brown and the Moo Wave, performing "Wet Paint." (SMV logo cut)
(First: Episode 2033)

Cartoon
"Bumble Ardy #9" -- Young Bumble Ardy invites nine pigs to his birthday party while his mother, Sweet Adeline, is away.
(First: Episode 0283)

Muppets
Ernie & Bert — Ernie eats one of Bert's cookies and doesn't know what to tell him. Bert observes that there are four cookies when there should be five. No matter how Ernie arranges them, there are still four cookies. Since Bert doesn't want to see four cookies, Ernie eats another one, making it three instead of four.
(First: Episode 0238)

Cartoon
9 Ants (Maria voiceover added)
Owe Gustafson
(First: Episode 1485)

SCENE 3
Maria, Buster the Horse, Grundgetta, and the kids assemble in the arbor with Wynton Marsalis. He plays his trumpet to score stories that they make up.

Cartoon
Two lines intersect at the middle of the screen and have an argument; they cooperate by making a cross.
(First: Episode 0276)

Muppets
Kermit talks about "top" and "bottom" using a stack of boxes Grover carries.
(First: Episode 0434)

Cartoon
A fat man and a small man demonstrate top and bottom.
(First: Episode 0525)

Cast
A voiceover instructs Maria as Chaplin where to put the shirts and the towels.
(First: Episode 0541)

Cartoon
Q -- that funny looking thing.
(First: Episode 0131)

Film
A construction machine and a horse look similar.
(First: Episode 1566)

Cartoon
Q for Quarter
Artist: Bud Luckey
(First: Episode 1176)

SCENE 4
Elmo now plays a game with Gladys the Cow where he guesses what kind of animal she is. Gladys enjoys the game because it describes her best attributes, but is upset that Elmo ends it so soon. She attempts to play it now with Barkley, but sees communication isn't his strong suit.

Cartoon
M is for Moo
Music: Larry Rosen and Charles Myers
(First: Episode 0276)

Muppets
"Home to Me"
(First: Episode 2093)

Cartoon
A magician writes in his diary about the many mishaps during his performance.
(First: Episode 2053)

Film
The Mad Painter #9
(First: Episode 0338)

Cartoon
A man tries to get to sleep, but is woken up by a fly, a chicken and a drum-playing rabbit, all of whom call him on the phone after he throws them out.
Artists: The Hubleys
(First: Episode 0257)

SCENE 5
The kids play ball with Barkley as Maria announces the sponsors.
External links