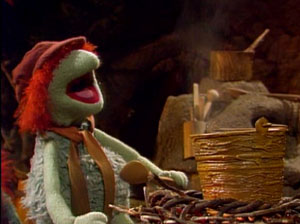 Boober tells Wembley and Gobo that he's making a radish gumbo. However, he has a problem. His kitchen has every vegetable but a radish, so he makes rutabaga gumbo with dried greaseberries and skunk cabbage. He is also doing laundry, but somebody put yeast in his Rock Soap. Boober mixes the soup and wash water, and unwittingly creates a substance that turns Fraggles invisible. The Fraggles use the invisibility soup to raid the Gorgs' garden at the same time when Junior Gorg is helping Ma Gorg and Pa Gorg with their spring cleaning. However, Boober worries that the new mixture is too good to be true.
Meanwhile, Doc and Sprocket end up doing some spring cleaning in the workshop until another plumbing problem happens.
Fraggle Facts
Goofs
Watch for a curious shot in this episode -- during the rock quake, Wembley, Red and the rest of the Fraggles shake along with the set. Boober shakes along too, but after a few shots, he, along with Gobo, stands perfectly still and apparently unaffected by the quake.
Wembley uses a Doozer stick to try and fish the skunk cabbage out of the gumbo, which makes the stick invisible, but then it becomes an ordinary stick. Also, Red calls the stick a ladle after Mokey becomes invisible.
Notes
International versions
UK: When Sprocket gets the hiccups, the Captain has to think of a way to cure them.
Songs
Video releases
Community content is available under
CC-BY-SA
unless otherwise noted.