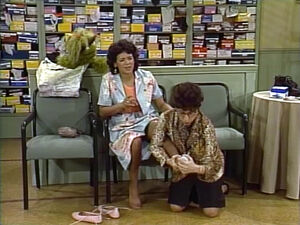 Picture
Segment
Description

SCENE 1
Maria tells the viewer that she's going shopping downtown. Grundgetta guess what she's going to be shopping for, which turns out to be shoes. Grundgetta offers a selection of old, ratty shoes Maria can have, but Maria intends to buy a nice, new pair of shoes. Grundgetta asks to go along, hoping to persuade Maria from picking any shoes that are too nice.

Cartoon
A girl inflates a balloon in the shape of an S.
(First: Episode 0414)

Muppets
"Sammy the Snake"
(First: Episode 0278)

Cartoon
Two men try to go over a very steep hill.
(First: Episode 1522)

Film
A girl narrates a film of her grandpa putting a horseshoe on their horse.
(EKA: Episode 0599)

SCENE 2
At the shoe store, the sales woman, Edith Prickley (Andrea Martin), tries to find the right size shoe, but none of them are the right size. Maria shows her how to use the foot scale, which shows her shoe size. They begin looking for the right looking shoe...

Cartoon
Building a dog house is easy if you have a ruler.
(First: Episode 0630)

Muppets
Here is Your Life: A sneaker is profiled.

Cartoon
S - Snake: A snake charmer irritates the snake.
(First: Episode 0063)

Film / Animation
Oranges are peeled and sliced in stop-motion, and some kids eat them.
(First: Episode 1802)

Animation
"¡Él juega fútbol!"
(First: Episode 2104)

SCENE 3
Maria has tried on several pairs of shoes now and she wishes to see a certain pair in a different size. The shoebox is high atop one of the shelves and Edith can't reach on her own. She picks up Grundgetta and raises her high, but not high enough (and Grundgetta doesn't like the experience). Maria points out the ladder Edith can use instead. The pair she retrieves don't suit Maria too well, so they keep searching...

Cartoon
Footprints move over to the tune of "Here Are Some Things".
(First: Episode 0518)

Muppets
Ernie sings "Imagine That" about things that he sometimes imagines to be: first a knight in shining armor who battles a dragon, then a sailor, and finally, himself.
(First: Episode 2142)

Cartoon
Kids observe cloud formations, until it starts to rain.
(First: Episode 2074)

Film
A film shows parts of a flower.
Music: Vivaldi's Concerto for lute, 2 violins and continuo in D Major II - Largo
(First: Episode 0008)

Cartoon
"Two headlights, two eyes, two schoolbooks, two pies..."
(First: Episode 0926)

SCENE 4
Edith has gone through all the shoes she has in Maria's size, with only four pairs remaining: three pairs of boots and a pair of pumps. After playing "Three of These Things", Maria chooses the pumps. Edith thinks she tackle any customer now, until a female Snuffleupagus enters with a large request.

Cartoon
The Ringmaster charms two snakes with his saxophone.
Artist: Jeff Hale
(First: Episode 1287)

Muppets
The Two-Headed Monster tries on different pairs of shoes, but can't agree on one pair. They end up agreeing to wear shoe boxes instead.
(First: Episode 2142)

Cartoon
A story about an ape and a bird, using the letter A.
(First: Episode 0158)

Muppets
Game Show: To Tell A Face
The object of the game is to identify the face of a relative. The contestant in this skit is Baby Bobby, who must identify his grandmother.
(First: Episode 2125)

Cartoon
A man displays the capital and lowercase A, and explains what an alligator is.
(First: Episode 0006)

Insert
Bob and the kids play "Practice, Practice."
(First: Episode 1736)

Film
A group of kids pick apples in an orchard, and take them into the cider mill to make apple cider.
(First: Episode 1585)

Cartoon
AT words: A fat cat with a hat sat on a mat. A bat scared the fat cat.
(First: Episode 1101)

Film
Most animals have two eyes, ears, etc. ... but some snakes have two heads.
Music: Joe Raposo
(First: Episode 0287)

Film
I hab a cauld ib by dose.
Artist: Bruce Cayard
(First: Episode 1170)

Muppets
Professor Grover teaches his students what "school" is, but he instead gets the lesson.
(First: Episode 1969)

Animation
Sand S / s
(First: Episode 0622)

SCENE 5
Telly wants Maria to play with him, saying it's important. However, Maria already has important plans to go to the movies with David. Outside Hooper's Store, Grundgetta begs David to play with her, but he tells her of his plans. Eventually, the two pairs meet and each go their separate ways, doing what they feel is important.
Community content is available under
CC-BY-SA
unless otherwise noted.