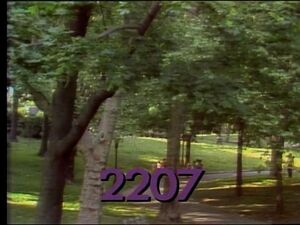 Picture
Segment
Description




SCENE 1
Telly shows Maria that he's taking care of Piri's dog Cool while he's off downtown. Telly has a gift prepared for him - a special collar with Cool's name and owner contact info. Telly doesn't think he'll be that great of a pet sitter, but Maria assures him that he'll be fine, since he seems prepared with so many dog supplies. Telly lets go of Cool's leash for a moment to fill his water dish at Hooper's Store. When Telly returns, he is panicked to find Cool is now gone!

Cartoon
Speech Balloon: A for Ape
(First: Episode 0006)

Muppets
Ernie & Bert — Ernie is planning to go to the library, when he hears on the radio that it might rain. So he gets out his umbrella, and puts on his raincoat, rain hat, and galoshes. Then, in case it floods, he takes a bag of groceries and a life preserver. Finally, he makes Bert go to the library with him, so he won't be stranded in the flood without him.
(First: Episode 1148)

Cartoon
"The Story of A": A witch tells bored kids a story about the letter A involving an ant's apple getting stolen by an archer.
(First: Episode 0130)

Song
Joe Raposo sings "Doggy Paddle."
(First: Episode 1967)

Cartoon
The Typewriter: A for airplane
(First: Episode 0770)

SCENE 2
Maria and some kids draw pictures of dogs to hang around Sesame Street., hoping it will help Telly find Cool.




SCENE 2
cont'd
Telly asks around the street if anybody has seen Cool, singing "Has Anybody Seen My Dog?" Grundgetta provides less than helpful assistance by summoning a pig and an elephant.

Film
Kids have a lost-dog poster made using an old-style printing press.
(First: Episode 1222)

Cartoon
Four elephants at the circus
Artist: Owe Gustafson
(First: Episode 1489)

Muppets
Marshal Grover and Fred the Wonder Horse spot a kitty stuck in a tree. Grover tries to find ways to get the kitty down such as shaking the tree trunk. He finally came to the conclusion that to get the kitty down, he would climb up the tree to bring it down. However, Fred has another idea to bring the kitty down by calling the kitty by saying "Kitty" and the kitty comes down. Now that the kitty is down, they now have another problem - how is Grover going to get down?
(First: Episode 1639)

Cartoon
Four Carpenters
(First: Episode 1616)

Film
Kids at school help make cornbread.
(First: Episode 1218)

Cartoon
Geometry of Circles #3 "Six Colored Circles"
(First: Episode 1395)

SCENE 3
Telly has been hanging up posters alerting neighbors of his search for Cool.

SCENE 3
cont'd
Over at Hooper's, Maria talks on the phone with the ASPCA. David turns the TV on to a WCTW Grouch Newsbrief from Grundgetta. She alerts viewers of the missing dog and suggests that if they find him, they should keep him and make his owner feel miserable. She changes her mind when she realizes that Telly will pester her and Oscar endlessly regarding the lost dog. There's only one thing left for Telly to do: "hope real hard".

Cartoon
Shorty reaches a water fountain with a stool.
(First: Episode 0954)

Muppets
Bip Bipadotta leads "Scratch My Back" as a song about two monsters named Jack and Jill who swear that they will always be there to scratch each other's backs.
(First: Episode 2191)

Cartoon
A girl runs home to her CASA.
(First: Episode 0503)

Muppets
The dark-bearded half of the Two-Headed Monster wakes up to argue with itself over whether to go to the zoo or the playground. The two both end up taking naps instead.
(First: Episode 1475)

Cartoon
A bird talks to a girl about what's inside the street. When she questions his credibility, he stammers, "A little worm told me!"
Artist: John Korty
(First: Episode 1918)

SCENE 4
The Hooper's phone rings and Telly answers it. A girl down on 3rd Street found Cool and is bringing him over to Sesame Street at this moment. Telly is elated, especially because his gifted collar was used to help contact the store. Maria and David give Telly a hug.

Cartoon
When a bird pops a balloon, the balls represent Sad and Happy.
(First: Episode 2102)

SCENE 4
cont'd
Ellen arrives on the block with Cool. David invites her into the store for a malted, on the house. Piri finally returns, and as Telly begins to explain what's happened, David invites all of them inside – "soda first, talk later".

Cartoon
A girl shows how good she is at drawing buildings.
(First: Episode 0454)

Muppets
Sesame Street News Flash: Jack Be Nimble can't figure out how to jump over the candlestick.
(First: Episode 0723)

Cartoon
A man goes to the grocery store to buy apples, but he can't decide how many to get. This frustrates the grocer, who has to keep adding and subtracting the amount of apples on his scale.
Artist: Cliff Roberts
(First: Episode 0132)

Film
Two kids cooperate on putting on smocks for painting.
(First: Episode 0284)

Cartoon
Various alien creatures perform in an otherworldly music performance conducted by a trumpet-nosed creature.
(First: Episode 1181)

Film
Slide puzzle - boy
(First: Episode 0428)

Cast / Muppets
Olivia sings about her "One Two Blues" with two Anything Muppets.
(First: Episode 1493)

Cartoon
Don't cross the street alone.
(First: Episode 1942)

Celebrity
Sally Ride announces that A is for Astronaut and blasts off.
(First: Episode 1949)

Animation
David spots an octagon out in space.
(First: Episode 1421)

Cartoon
A young man carrying a brown paper bag walks up to the bridgekeeper and asks him if he works there. He orders him to show him whatever circles are in the bag, and to eat them. He is ordered to eat three round foods: a cookie, a pepperoni pizza, and a slice of watermelon. Once he is granted permission to cross the bridge, however, he tells the bridgekeeper that he was merely trying to deliver the latter's groceries.
(First: Episode 1582)

Muppets
Ernie & Bert — Ernie thinks that he isn't special. Bert tells Ernie to feel his nose -- "That's an Ernie nose!" -- and then feel his hair, and wiggle his fingers. Bert says that nobody else is just like Ernie. Encouraged, Ernie tells the audience to do the same.
(First: Episode 0276)

Cartoon
V for Van (live-action/animation hybrid)
Artist: Paul Fierlinger
(First: Episode 1181)

Film
Seashells form various patterns in the sand.
(First: Episode 2031)

Muppets
A little boy explains how he can be a son, a brother, a paperboy, a friend, and a grandson all at the same time.
(First: Episode 0691)

Cartoon
Small v ... for voom, voice, violin, etc.
Artist: The Hubleys
(First: Episode 0167)




SCENE 5
Grundgetta talks to Cool, thinking it must have been nice to run off and do whatever he pleased. Bob announces the sponsors as the gang admires Cool.