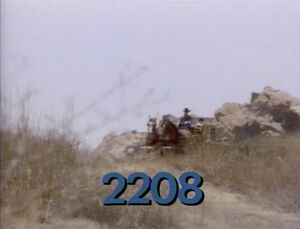 Picture
Segment
Description

SCENE 1
Telly explains to Susan and Gordon that he's waiting at the bus stop for Uncle Wally to arrive. He's worried that someone will take the sign away, and the bus won't stop. They explain to him that the bus stop sign isn't likely to be taken away, because it's in the ground. Telly would rather watch the bus stop sign anyway.




SCENE 1
cont'd
When the bus does arrive, Telly is so fixated on the sign that he doesn't notice that Uncle Wally has passed him until it's too late. He shouts at the sign, "This is all your fault!"

Muppets
A group of Anything Muppets sing about a "Bus Stop" sign.
(First: Episode 0978)

Film
Mad Painter #3
(First: Episode 0343)

Cartoon
Billy Jo Jive investigates the case of the missing guitar strings.
(First: Episode 1234)

Video
A pentagon in space (David and kid V/O)
(First: Episode 1714)

Cartoon
"That's About the Size of It"
Artist: Bud Luckey
(First: Episode 0279)

SCENE 2
Uncle Wally sits quietly in the arbor, reading a newspaper.

SCENE 2
cont'd
Telly is upset that he missed greeting Uncle Wally at the bus stop, and worries that Uncle Wally won't be his friend anymore because of it. Gordon suggests to Telly that he just go up to Uncle Wally and say it's good to see you.

SCENE 2
cont'd
Telly does so, and gets a pat on the back from Uncle Wally. Telly says to us "Take it from me, if you like somebody, and you haven't seen 'em for awhile, just go up to them, and say, 'Hello! I'm glad to see you!' It's easier than you think."

Cartoon
A boy demonstrates why his dog's name is Happy.
(First: Episode 0537)

Muppets
Sesame Street News Flash: Prince Charming kisses Sleeping Beauty, intending to wake her up. To his astonishment, she turns into a frog and hops off with Kermit.
(First: Episode 0453)

Song
"Fall Song"
(First: Episode 1286)
cut from the Noggin version

Muppets
Muppet and Kid Moments: Grover and Eric observe the differences between fur and skin.
(First: Episode 1642)

Cartoon
A man sets up a bus stop sign so that a giant can eat the buses that come.
(First: Episode 1176)
cut from the Noggin version

Muppets
Ernie & Bert — Bert is sitting in his chair and reading the paper, when Ernie comes along and starts reading over Bert's shoulder. They decide to share the paper. Ernie rips it in half, which seems to work until Bert realizes that some of his article is on Ernie's half and starts reading over Ernie's shoulder.
(First: Episode 1193)

Animation
Draw a circle around the bus. Cross out the telephone.
(First: Episode 2093)

Film
Footage of a sunflower seed factory, where birdseed bells are manufactured.
(First: Episode 1181)

Insert
Big Bird and Snuffy remember when they met ... but their memories are different from one another.

Film
Body Part Shout-Out
Music: Joe Raposo
(First: Episode 0264)

Cartoon
A female head is drawn as its voice-over lists its parts, ending with earrings that "do nothing" ... and the earrings promptly wiggle around.
Artist: James Rizzi
(First: Episode 0821)
cut from the Noggin version

Muppets
Biff hangs Salvador Dada's paintings in an art gallery. The one with 2 splotches is called #2, the one with 3 splotches is called #3, and the one with 4 splotches is called #4. However, when Biff figures out the pattern and predicts that the painting with 5 splotches is called #5, but Salvador reveals that he calls that one "Chicken Soup."
(First: Episode 0707)

Cast
Susan, Bob, and Maria give a lesson on addition and subtraction.
(First: Episode 0633)

Film
A trip to the doctor's office.
Music: Joe Raposo
(First: Episode 0471)

Cartoon
Sporty 3 demonstrates his agility in various sports.
(First: Episode 1642)
cut from the Noggin version

Animation
A rock does somersaults for its peers, but gets little applause.
(First: Episode 2021)

Cartoon
Several rabbits try to pull a carrot from the ground
Artist: Irra Verbitsky
(First: Episode 1473)
cut from the Noggin version




Celebrity
Ricky (Billy Crystal) walks through a letter U, which he thinks is UNBELIEVABLE!
(First: Episode 2083)

Cartoon
A boy needs a letter U to complete the word UP.
(First: Episode 0416)

Muppets
Ernie displays a ukulele; Cookie Monster plays "Tiptoe Through the Tulips" on it, then eats it.
(First: Episode 0047)

Film
Traffic lights
(First: Episode 0131)

Cartoon
3 song (butterflies, birthday presents, waving pennants etc.)
(First: Episode 0927)

Muppets
Ernie is tossing and turning in bed. He sings to the viewers how he feels "When Bert's Not Here."

Film
Students prepare for a spelling bee.

Cartoon
P for Penguin
Artist: Jeff Hale
(First: Episode 1190)

SCENE 3
Gordon and Oscar watch as Grundgetta practices "The Trash Bag Waltz."

Cartoon
P for Painting
(First: Episode 0764)

Film
George the Farmer is near when he's on a barrel; he's far when he's on the porch.
(First: Episode 0235)

Muppets
Grover is a guest on the game show "Name That Sound."
(First: Episode 1643)

Film
A gazelle runs fast across a plain.
Music: Joe Raposo
(First: Episode 0478)




SCENE 4
Oscar criticizes Grundgetta's dance work, saying it's too perfect. They both argue about it, as Gordon announces the sponsors.
Community content is available under
CC-BY-SA
unless otherwise noted.