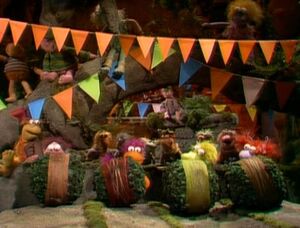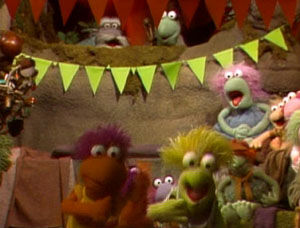 Gobo is jealous when Wembley beats him in a race, and the competition threatens to split up their friendship. Wembley doesn't want to race any more if it's going to destroy his relationship with Gobo, but Red pushes him into a new training program.
Meanwhile, Doc prepares Sprocket for an exhibition dog show that is coming to town following an argument with Ned Shimmelfinney.
Fraggle Facts
Notes
The lyrics to this episode's songs were written by Tim Wynne-Jones, instead of the usual lyricist, Dennis Lee.
The Fraggles must have learned to count somewhere between Sir Hubris and the Gorgs and this episode, because they can count in this one.
This is the third time Gobo cries. The first was "Mokey's Funeral" and the second was "A Friend in Need".
The music and slow motion effects in the final race are an homage to the 1981 film Chariots of Fire, about two rival marathon runners.
Supporting cast
Songs
Video releases
International episode titles