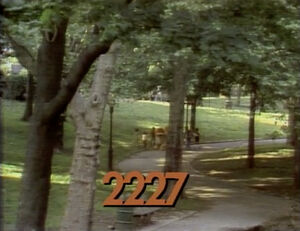 Picture
Segment
Description




SCENE 1
Elmo is sleeping over at Maria's apartment (in her dresser) and has woken up early because of his dream. He describes the beautiful sounds he heard, waking Maria in the process. Although she wishes to not hear about his musical dream, he begins describing it, starting with a baby on the moon.

Cartoon
Madrigal Alphabet
Artist: Jeff Hale
(First: Episode 0615)

SCENE 1 cont'd
Elmo finishes talking about the dream and wants to have breakfast now. Maria points out it's 5 in the morning, which reminds him of his dream about 5 worms.

Cartoon
Five Worms In An Apple
Artist: Owe Gustafson
(First: Episode 1502)

SCENE 1 cont'd
Maria tells Elmo that she doesn't need to be up until 7, which is two hours from now. She shows him how to add 2 to 5. He thinks that's plenty of time to make pancakes for breakfast and heads to the kitchen.

Cartoon
Typewriter: S for spring
(First: Episode 0792)

Muppets / Cast
"Singing in the Shower" - Olivia, Ernie, Oscar, and Big Bird sing about how they like to sing in their various modes of cleaning (shower, bathtub, mudbath, and birdbath).
(First: Episode 1834)

Film
Empty/full playground (time-lapse)
(First: Episode 0415)

Cartoon
Gloria talks about W
(First: Episode 0806)

Muppets
The Martians discover a telephone. They say hello to it, and then try mooing, meowing, and clucking at it. None of these bring any response. Then it begins to ring. Thinking that it's talking, they start making ringing noises back.
(First: Episode 0398)

Cartoon
The Square
(First: Episode 0536)

Film
A still of construction equipment fades into a shot of a parrot.
(First: Episode 1535)

Muppets
Sesame Street News Flash
Kermit is in the lab of Professor Nucleus Von Fission, who has just built a robot called the Six Dollar Man out of parts which cost him six dollars total. It destroys the lab when demonstrated, while Von Fission laughs. Kermit is horrified, but Von Fission explains, "What do you expect for six dollars?"
(First: Episode 0933)

Cartoon
Animated quilt patterns.
(First: Episode 1470)

SCENE 2
Maria shows Elmo the steps to making pancakes. While she mixes the batter, he mixes up a sand pie.

Film
Kids talk about building sand castles and structures at the beach.
(First: Episode 1122)

Animation
Stop-motion: A bunny tries to make a bench with blocks, but needs a chick's help.
(First: Episode 1463)

Muppets
The Amazing Mumford waves his magic wand over a glass cookie jar and makes it become full of cookies and then empty again (over and over) as an anxious Cookie Monster watches.
(First: Episode 0287)

Cartoon
Sign Sounds: Coffee
(First: Episode 1169)




SCENE 3
The pancakes are nearly done and Maria forgives Elmo for waking her up earlier. She then flips them. She sends one too high, which hits the ceiling and lands on her face.

Cartoon
Six snakes spent Saturday on the sand.
(First: Episode 1669)

Film
"Three of These Kids" — Football and Baseball
(First: Episode 0536)

Film
College students volunteer at the San Francisco Children's Zoo, which has such animals as ferrets, opossums, and chinchillas.
Music: Joe Raposo

Cast
Linda signs "wind" and David is blown away.
(First: Episode 1325)

Cartoon
The Ringmaster #5: Five fantastic floating fools fall from the big blue blimp.
(First: Episode 1310)

Muppets
Simon Soundman sings to his date about the "Sounds That Remind Me of You."
(First: Episode 1432)

Cartoon
S is for subway, sailboat, sled, scooter, skates, skis, and stop.
Artists: The Hubleys
(First: Episode 0279)

SCENE 4
Elmo can't eat his pancake because he'd much rather hold his pail and shovel. Maria tells him he needs to put them down before he eats.

Cartoon
W for Willamina
(First: Episode 0512)




Muppets
Guy Smiley hosts the game show "What's My Part?". The contestant is Mr. Nose. The panelists (Bennett Snerf, Arlene Frantic, and Cookie Monster) don't know what a nose is, because none of them have one.
(First: Episode 0131)

Film
A man writes the word ME in the snow.
Music: Joe Raposo
(First: Episode 0294)

Cartoon
Words that rhyme with BALL (Features the voices of Bob Arbogast and Daws Butler)
(First: Episode 0773)

Muppets / Celebrity
Carol Channing sings a spoof of "Hello, Dolly!" with Sammy the Snake, praising his ability to look and sound like an S.
(First: Episode 1951)

Cartoon
A letter for "me"
(First: Episode 0781)

Muppets
Ernie & Bert — It's cold outside, so Bert tries to ask Ernie to play a game with him. Ernie keeps bringing winter equipment into the room, thinking Bert wants to play outside. It turns out he just wants to play a game of checkers.
(First: Episode 1617)

Cartoon
A bear (Jim Thurman) stacks 10 cans.
(First: Episode 1978)

Film
"It's an Otter!"
Music: Joe Raposo
(First: Episode 0284)

SCENE 5
The kids play games in the street below Maria's window. While she tells Elmo that she must go to work, he announces the sponsors.