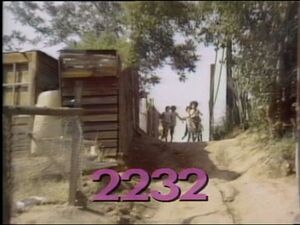 Picture
Segment
Description




SCENE 1
Big Bird and Mika look for something fun to do. They see David reaches the end of his paper towel roll, so they decide to play with the tube. They use it as a telescope, pretending they're mid-century sailors discovering America.

Cartoon
A captain and a first mate think they have planned ahead well for their trip at sea, but they forgot to take in the anchor.
(First: Episode 1591)

Muppets
Kermit the Frog sings "Bein' Green" against a farm field background.
(First: Episode 0722)

Film
A bald eagle flies over houses, a beach, and other locations.
Music: Joe Raposo
(First: Episode 0411)

Animation
M / m (Gordon voiceover)

Muppets
Ernie & Bert — Bert urges Ernie to go to sleep, but Ernie won't go to sleep until the person living upstairs drops his other shoe. When the shoe finally drops, Ernie wakes Bert up to tell him about it.
(First: Episode 0176)

Cartoon
A clam tells a fisherman why he's not catching any fish: he pulled all the plants out of the pond.
(First: Episode 0408)

SCENE 2
Next, Big Bird and Mika imagine they're performing a concert, where Mika uses the tube as a trumpet.

Cartoon
L for Lion (poem)
Artist: Jeff Hale
(First: Episode 1149)

Muppets
Two-Headed Monster finds a pencil with a broken point, and demonstrates the fun you can have with it.
(First: Episode 2096)

Film
Elephants in the zoo.
(First: Episode 0283)

Cartoon
Speech Balloon: L--Loud
(First: Episode 0783)

SCENE 3
Finally, Big Bird imagines the tube is a magic wand. He pretends Mika is Cinderella and he's her fairy god-bird, using the "wand" to get her ready for the ball.

Cartoon
Three mice (Swedish animation)
(First: Episode 1504)

Celebrity
Madeline Kahn plays a pair of twins that take turns counting to 20.
(First: Episode 1139)

Film
A dented car door is repaired and repainted at an auto body shop.
(First: Episode 1112)

Cartoon
M for mouse, mud, and mother
(First: Episode 0073)

Muppets
Game Show: To Tell A Face
The object of the game is to identify the face of a relative. The contestant in this skit is Baby Bobby, who must identify his grandmother.
(First: Episode 2125)

Cartoon
Gloria sings the alphabet (uppercase version)
(First: Episode 0023)

Film
Footage of a Chinese noodle factory.
(First: Episode 0984)

Cartoon
A man sets up a bus stop sign so that a giant can eat the buses that come.
(First: Episode 1176)




Insert
Maria makes the bus just in time, but Gordon and Linda miss it. Snuffy invites them to follow him to the Snuffleupa-bus stop, where he'll catch the Snuffleupa-bus to Snufflegarten. Gordon and Linda are amazed at the size of the bus stop and the bus itself. After he gets on the Snuffleupa-bus and goes off to school, Gordon and Linda notice their bus leaving at another stop, and they run to catch it.
(First: Episode 2142)

Cartoon
Kids count from 1 to 10, then 10 to 1, as the numbers are displayed over colored lights.
(First: Episode 0931)

Muppets
The Count extinguishes electric candles by counting them with his finger. As he heads up the stairs for bed, he steps on Fatatita. He also tells his wolf Yuba to run and play with his friends.
(First: Episode 0545)

Song
"I'm Not a Baby Anymore"
(First: Episode 0652)

Film
Things that start with M
(First: Episode 0620)

Muppets
Waiter Grover prepares a table for a family who's celebrating their grandmother's birthday, but Grover doesn't know her name, so when each family member refers to her as a different relative each time, Grover thinks there's more than one party going on, so he ends up bringing out seven cakes.
(First: Episode 1958)

Film
Marching Band #3
(First: Episode 0517)

SCENE 4
Reacting to the previous segment, Grundgetta remarks, "The number 3. Bleech. Who needs it?" Oscar says the number is useful to him and the two sing "Knock Three Times."

Cartoon
The Carrot
Artist: Bruce Cayard
(First: Episode 1132)

Muppets
Ernie tries to keep his cookies safe from Cookie Monster by tricking him into eating a carrot instead.
(First: Episode 1232)

Cartoon
Typewriter: M for magic
(First: Episode 0841)

Muppets
Muppet & Kid Moment — Kermit and Jennifer bend their knees. Grover comes out of a hole in the ground, and Jennifer invites him to join them, but Grover remarks, "When you start talking about noses, give me a call."
(First: Episode 1166)

Cartoon
A hand draws a bridge, which a train crosses.
(First: Episode 0793)




Film
Number Three Ball Film: A red ball follows a rollercoaster-like track through checkpoints (each, a set of three) that are counted in voiceover. At the end, the ball turns into a cherry which is devoured by a girl.
(First: Episode 0744)

SCENE 5
Grundgetta thinks of something she can do whenever she sees Oscar - yell three times. The two then announce the sponsors.
Community content is available under
CC-BY-SA
unless otherwise noted.