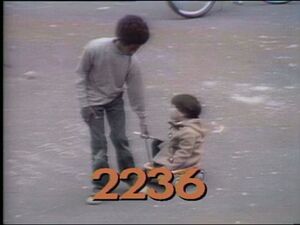 Picture
Segment
Description

SCENE 1
Piri teaches Big Bird and the kids how to do a moonwalk. In response, Big Bird teaches them how to do some beakdancing.

Cartoon
Six snakes spent Saturday on the sand.
(First: Episode 1669)

Muppets
Grover's Health Minute: Kermit the Frog and Grover talk about teeth. Grover notices that Kermit does not have any teeth at all, so he puts a pair of teeth in Kermit's mouth. Grover says to see a "tooth checker," to eat crunchy things like bananas and to clean teeth with a "tooth comb."
(First: Episode 1949)

Cartoon
Pirates sing a doo-wop song about how they are preparing for their journey.
Artist: Michael Sporn

Film
Various objects become OPEN.
(First: Episode 0442)

Cartoon
Two Elephants
Artist: Owe Gustafson
(First: Episode 1457)

Muppets
Ernie & Bert — Ernie tries to put a pot on Bert's head. Bert asks Ernie why he's doing that, and Ernie says that he broke a cookie jar. Ernie has to put the cookies somewhere, so he put them in the sugar bowl – and put the sugar in the flowerpot, which meant that he had to put the flower in a milk bottle. He put the milk in the soda bottle, the soda into the fishbowl, and the fish in Bert's cowboy hat. Bert asks, "Now what am I going to wear when I want to play cowboy?" Ernie puts the pot on Bert's head and says, "Ride 'em, cowboy, Bert!"
(First: Episode 0305)

Animation
Sand S/s
(First: Episode 0622)




Insert
Luis needs to step out of the Fix-It Shop for a few minutes and asks Maria to mind the telephone. It only takes Maria a few moments to get overworked between repairs and phone calls. She muses about being somewhere peaceful, far away from the shop. She and the viewer imagine being at the beach, where she traipses through the water and finds a sandcastle. Luis returns to the shop just as Maria snaps out of it.
(First: Episode 1613)

Cartoon
A young girl's favorite toy is a stick, which she uses for many things, including a magic wand, conductor's baton, and a baseball bat.
(First: Episode 0960)

Film
"Two Song (Song of Two)"
(First: Episode 0001)

Muppets
Muppet & Kid Moment — John-John and Herry Monster count to twenty.
(First: Episode 0441)

Film
Traffic lights
(First: Episode 0131)

Cartoon
Would you mind closing our OPEN?
(First: Episode 0512)

Cast
David tries to close a window and a door, but they open by themselves.
(First: Episode 0772)

Cartoon
A concert pianist shows up in a construction worker's lunchbox, singing the alphabet.
(First: Episode 0449)

SCENE 2
Big Bird shows Bob his sad bird friend, Indigo. Singing cheers him up, so Bob encourages him to "Sing, Little Bluebird." Soon, Indigo is chirping along with Bob.

Cartoon
"Love" word animation
(First: Episode 0926)

Muppets / Film
Sneak Peek Previews
Telly and Oscar have conflicting views on a film of the making of a steel drum.
(First: Episode 1919)

Cartoon
B for boats, bouquet, baby, bonnet, etc.
(First: Episode 1703)

Film
Alone Song
(First: Episode 0921)

Muppets
Biff asks Sully to recite the alphabet, but recites the whole thing without giving him a chance to speak.
(First: Episode 0873)

Cartoon
Once there were two men. Each had his own idea. One man told his thought to the other man, then the other man told his idea to the first man. Now both men knew twice as much.
(First: Episode 0268)




SCENE 3
Snuffy brings his TV over to Big Bird's nest so that he, Big Bird, and some kids can work out along with Jane Snuffleupagus.

Song
Joe Raposo sings "Take a Breath."
(First: Episode 0347)

Cartoon
Pinball Number Count #2
Artist: Jeff Hale
(First: Episode 0987)

Celebrity
Itzhak Perlman and a little girl observe their strengths and weaknesses.
(First: Episode 1563)

Cartoon
Speech Balloon: B for Bug
(First: Episode 0137)

Muppets
Cookie Monster shows all, some and none using a bag of cookies: he pours all the cookies on the plate, eats some of them, but leaves none for Ernie.
(First: Episode 1437)

Animation
All, none, some and one fish swim around.
(First: Episode 2109)

SCENE 4
Oscar introduces the Grouchketeers to his pet lobster, Camille. He describes what makes her an ideal Grouch pet, then he and the kids pretend they have lobster claws.

Film
Lobster fisherman
(First: Episode 0966)

Cast
Maria is dressed for summer weather, while Linda is dressed for the snow. They switch clothes and scenarios.
(First: Episode 1819)

Cartoon
Cat / fat / hat / sat / rat / bat / scat / splat / flat / pat
Voice: Daws Butler
(First: Episode 0770)

Muppets
The Two-Headed Monster acts out different feelings.
(First: Episode 1982)

Cartoon
S - Snake: A snake charmer irritates the snake.
(First: Episode 0063)

SCENE 5
Oscar bets Bob that he can make Camille do anything he commands her. Bob replies, "If you can get that lobster to do anything you tell it, I'll eat my hat!" Oscar then orders Camille to sit on the bottom of the tank and do virtually nothing, which she is naturally able to do. Oscar wishes Bob a fine meal, and Snuffy announces the sponsors.