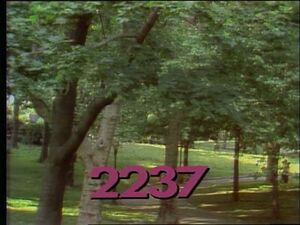 Picture
Segment
Description




SCENE 1
Telly shows Maria and Olivia how well he's gotten at reading by reading some of Cinderella. He becomes distraught when he realizes what a sad life Cinderella lives and wants to take her away from it. He consults the Amazing Mumford to see if he can use magic to bring her out of the storybook. Mumford has never tried such a feat before, but gives it a whirl. He waves his wand and suddenly Cinderella (Jane Curtin) appears before them.

Cartoon
Pinball Number Count #11
Artist: Jeff Hale
(First: Episode 0988)

Muppets
Ernie & Bert — On a rainy day, Ernie watches TV, when Bert suggests he do something else, like write a story. Thus, Ernie sets everything out on the table, including pencils, paper, a pencil sharpener, and a wastebasket (which somehow ended up on Bert's head). Ernie is now ready to write a story, but instead, he leaves everything set out for when he gets an idea.
(First: Episode 1293)

Film
People of all ages ride bicycles.
Music: Joe Raposo
(First: Episode 0616)

Cartoon
The Pink Panther - K For Karate
(First: Episode 0241)

SCENE 2
Cinderella is surprised at some new experiences she has already, such as meeting nice people and being able to know something. Mumford tires putting her into some new clothes, but his trick doesn't work. Maria recommend he change up his magic words to "Bibbidi-Bobbidi-Boo." Cinderella's rags are now turned into modern, casual clothing.

Cartoon
A cat desperately tries to open a can of cat food by himself while his mistress is on the phone.
Artist: Dan Haskett
(First: Episode 2151)

Muppets
"Beginning, Middle, End"
(First: Episode 1115)

Film
Several people help a man when his car is stuck in the mud.
(First: Episode 0619)

Cartoon
A monster sees a box that keeps opening and closing, saying "Abierto" and "Cerrado."
(First: Episode 0771)

Cast
David struggles to keep a door CERRADO, as it keeps opening itself. He slams it shut, shattering the wall behind it.
(First: Episode 1511)

Cartoon
How do frogs make more frogs? The birth and growth of a frog is documented. At the very end, the fully-grown frog hops in the middle of a field and calls out, "Hey, Kermit!"
Artist: Cathryn Aison
(First: Episode 1232)

SCENE 3
Cinderella has a lot to learn and fortunately the Count arrives to teach her to count to 20.

Cartoon
A magician tries to pull a rabbit out of his hat, but instead finds the numbers 1-20, which the rabbit repeats at the end.
(First: Episode 0337)

Song
"Spanish Foods Song"
(First: Episode 1111)
Cast
Bob and Luis put together two halves of a painting of a train tunnel. When they fit the parts together, a train goes through the tunnel and zooms to take up the entire screen, frightening Bob and Luis so much, they take down the tunnel again.
(First: Episode 0549)

Cartoon
L - shooting stars

Muppets
Grover compares himself and the viewer, noting how much they are alike (except for the viewer's lack of blue fur).
(First: Episode 1804)

Cartoon
The Typewriter: L for lion
(First: Episode 0762)

SCENE 4
The Two-Headed Monster disagrees on whether to sing or say the alphabet. Cinderella resolves the fight by singing the Alphabet Song. When the monster asks her to join in, all three end up speaking in the same monster language!

Cartoon
K is for kiss.
Animation: John and Faith Hubley
(First: Episode 0131)

Muppets
Kermit talks about his favorite subject - frogs. Gladys the Cow assists by being a cow frog wearing goggles, air tank, and froggy foot paddles. Gladys asks Kermit how it would feel to be a cow and he replies feeling glad to be a frog. Gladys puts a cow's horns, ears, and a bell on Kermit.
(First: Episode 2206)

Film
A male frog hops around and bulges his throat.
(First: Episode 0469)

Cartoon
One cube plus two equals three. Three cubes plus two equals five.
(First: Episode 2220)

Insert
Big Bird watches the shape dancers make a rectangle.
(First: Episode 1276)

Cartoon
Henson: Eleven Cheer
(First: Episode 0273)




SCENE 5
Olivia gathers Cinderella, Maria, the kids and Herry Monster for a group photo. Cinderella is amazed to learn people can have careers and wonders if she could ever have one too. Telly then rushes to point out that in the rest of the story, Cinderella goes to the ball and gets married, so she needs to return to her book right away. Herry, smitten with Cinderella, hopes he can grow up to become Prince Charming.

Film
George the Farmer demonstrates beginning and end.
(First: Episode 0265)

Muppets
Miami Mice
Ernie goes to a repair shop to pick up his broken Rubber Duckie, but neither he nor the mice can get into the shop because it's cerrado.
(First: Episode 2209)

Film
A marching band counts from 1 to 20.
(First: Episode 0504)




SCENE 6
Telly frantically tries getting Cinderella back in the the book without Mumford's help, to no avail. Mumford arrives and agrees to help, just as long as he gets to use his own magic words. He ends up transporting the Seven Dwarves to Sesame Street instead, then manages to return Cinderella and the Dwarves back to their respective stories.

Cartoon
A postal worker tells the viewer what the post office is good for.
Artist: Cliff Roberts
(First: Episode 0783)

Film
A clown (Dennis Allen) takes off his make-up. Which face do you like better?
(First: Episode 0461)

Muppets
"Rebel L"
(First: Episode 2217)

Cartoon
L for life, love, lizard, leap and lump
Artist: Cliff Roberts
(First: Episode 1833)

SCENE 7
Telly reads Olivia and Maria the ending of the storybook, where Cinderella marries her prince and has become a doctor as well! Mumford announces the sponsors.