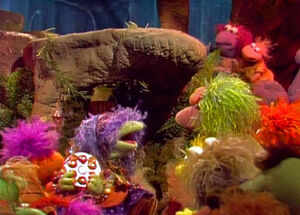 Boober plans to have a nice quiet day by himself, but then he's visited by his silly dream alter-ego Sidebottom following various interruptions by the other Fraggles. At Sidebottom's urging, Boober lies to his friends in order to spend the day alone, but his lies build on each other -- and Boober is stuck impersonating the Old Gypsy Lady.
Meanwhile, Doc tries to spend the day without Sprocket who is away most of the day for his flea bath at the vet.
Fraggle Facts
The Old Gypsy Lady is another Fraggle who travels through the caves in Fraggle Rock, like Cantus the Minstrel. The Gypsy Lady's appearance in a particular Fraggle settlement is a cause for great celebration, and she wanders so far that the young Fraggles in this group have never met her before.
Notes
This is Sidebottom's second appearance in Boober's life (he seems to have gotten a haircut), and the first one outside of his dreams. It's also the first appearance in which Tosh Fraggle, a minor, recurring Fraggle friend, is named. She previously appeared in episodes Red's Club and Manny's Land of Carpets as a background character.
"

There was an episode of Fraggle Rock called "Boober's Quiet Day" in which I played Boober, his alter ego Sidebottom, and Boober disguised as the Old Gypsy Lady. We used ultimate to allow me to perform two characters on the screen at once. I performed the first character in the set, leaving pauses for the second character's lines. Then I performed the second character in front of a blue screen and it was matted into the picture. I choreographed the movements to give the illusion that both characters could move freely in the set. The episode was especially challenging for two other reasons: first, it was written as a farce and the plot was complicated; second, it was about Boober trying to integrate the two sides of his personality, and everything in the show had to support that growth.

"
Supporting cast
Songs
Video releases
International episode titles