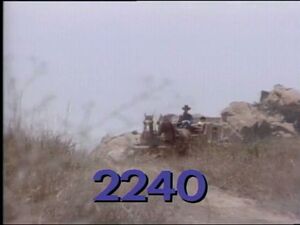 Picture
Segment
Description

SCENE 1
Oscar gathers all his "friends" (Susan, Gordon, Luis, David, Bob, Willy and three of the kids) to take a picture for his Grouch club. He asks them to move closer and closer together, until they're all concealed behind the lamppost.

Cartoon
A woman serves milk to her cat. Several other cats join him, including a lion.
Artist: Bruce Cayard
(First: Episode 1017)

Film
Some kids learn how to use Logo, a computer programming language, to draw shapes on computers.
(First: Episode 1968)

Insert
Big Bird reads a poem about how hard it is to be a sheep, and become cold when giving up one's wool: "So let's be fair when snow is deep, let's put the sweater on the sheep." Accompanied with cotton sheep illustrations.
(First: Episode 1828)

Cartoon
The secret drawing is a mailman.
(First: Episode 0220)

Film
A wall painter on a high-rise spells and paints the word "WET PAINT" in red, but accidentally puts his hand on one of the painted letters and looks at his hand, all painted red, and shouts, "WET PAINT!"
(First: Episode 1036)

Animation
Henson Films: Number Twelve Rocks
(First: Episode 0195)

Muppets
"Honk Around the Clock"
(First: Episode 1631)

Film
A man makes a shadow puppet of a camel.
(First: Episode 0593)

Cartoon
Actor demonstrates anger towards casting director - literally!
(First: Episode 2061)

Muppets / Celebrity
Oscar and Andrea Martin talk about being angry.
(First: Episode 2185)

Cartoon
A man appears out of a yo-yo string and narrates two poems about over, under, around, and through: one about a fish swimming around the wreck of the good ship Mary Lou, and another about a worm who eats through the center of an apple.
Artist: Jeff Hale
(First: Episode 1389)

Song
Joe Raposo sings "Peanut Butter." (First: Episode 1966)

Muppets
Cookie Monster goes on a picnic, with a basket full of cookies. A bug flies by, and tries to get into the basket, buzzing furiously. Cookie Monster tries to give the bug a little cookie if it'll go away. The bug refuses, buzzing even more strenuously. Cookie tries a big cookie, but it still refuses. Cookie offers an almond cookie, a raisin cookie, a pistachio nut cookie, and a crunchy granola cookie. He realizes that the little bug doesn't like cookies. All he has left is a letter Z. The bug is excited, and buzzes off with the Z.
(First: Episode 1484)

Cartoon
Z for zipper
(First: Episode 0025)

Film
Prairie dog
Music: Joe Raposo
(First: Episode 0283)

Muppets
Kids narrate as Snuffy takes a walk in the park and Barkley follows him.
(First: Episode 1873)

Cartoon
A man displays the capital and lowercase A, and explains what an alligator is.
(First: Episode 0006)

Muppets
Ernie & Bert — Bert can't go on a trip with Ernie because his hand has purple paint on it. Ernie puts a mitten on Bert's hand to cover it, but Bert still won't go because he looks silly wearing one mitten. So Ernie completes the outfit with another mitten, a hat, a scarf, and a sled. Ernie then reveals that they are going to the beach.
(First: Episode 0386)

Animation
A/a (Gordon voice-over)

Film
Tomatoes grow in a field. (edited)
(First: Episode 0084)

SCENE 2
Luis shows Telly and the kids different parts of a fire engine and what they do. Telly wishes he could be a firefighter one day and thinks he can become one right away.

Cartoon
In rhyme, a man points out animals who stole and/or ruined his clothing.
(First: Episode 0778)

Cast
Maria as Chaplin falls in love with a painting (Linda) at the art museum.
(First: Episode 2033)

Cartoon
Counting 10 to 1.
(First: Episode 0480)

SCENE 3
Telly dons a firefighter helmet and has a small fire extinguisher. After giving himself a pep talk, he calls out to see if anyone needs his help. Gordon, Susan, Willy, and Bob all tell him they have no need for his services at the moment.




SCENE 3 cont'd
Telly checks with Luis if he has any fires, disappointed to find again he's of no use. Luis explains that firefighters don't solicit for work; people call for them when there's a fire. He provides Telly with another helpful bit of advice - "Where's there's smoke, there's fire." He takes this to heart when he smells smoke coming from Hooper's Store. He darts over and sprays his extinguisher all over David's heavily-toasted English muffins. David angrily tells him, "You just extinguished my breakfast!"

Cartoon
Z for zebra and zoo
(First: Episode 0281)

Film
A young girl talks about her friend, Joe, who's training to be a fireman.
(First: Episode 1859)

Cartoon
An ape escapes from the A train and heads over to a birthday party.
(First: Episode 0293)

SCENE 4
Bob informs Telly about how much work actually goes into becoming a firefighter, such as taking exams and going to school. He states this applies to many careers and sings "You Can Be Anything You Want To" with Telly.

Cartoon
"The Story of Princess Twelvia".
Artist: Irra Verbitsky
(First: Episode 1676)

Muppets
How Now Brown and the Moo Wave performs "Wet Paint."
(First: Episode 2033)

Cartoon
Simple Simon meets some strange-looking animals, all of whom have their parts switched around.
Artist: Jeff Hale
(First: Episode 0540)

Film
Jerry Nelson counts 20 backflips performed by a monkey.
(First: Episode 0217)

SCENE 5
Big Bird watches Luis paint a "WET PAINT" sign to position by a door he's just painted. While he goes for some coffee, Big Bird realizes the sign is wet as well and believes making a "WET PAINT" sign for it would help. Luis comes back to find Big Bird has created several more "WET PAINT" signs to account for each other (and even sticks one on Luis in jest). Bob announces the sponsors and the credits follow.
Community content is available under
CC-BY-SA
unless otherwise noted.