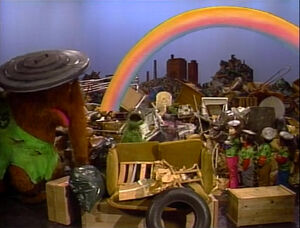 Picture
Segment
Description




Insert
Big Bird and Snuffy pretend to explore Sesame Street. They encounter some native Sesame Streetians speaking Sesamese and attempt to communicate with them and learn their customs.
(First: Episode 2150)

Cartoon
Kids hear an L poem.
(First: Episode 0198)




Muppets
Game Show: The Triangle is Right
The object of the game is to answer every question with "a triangle" as the answer. Contestant Prairie Dawn has little patience for this format.
(First: Episode 2185)

Film
Lions walk down a trail.
Music: Joe Raposo
(First: Episode 0367)

Cartoon
"Pinball Number Count" (#12)
Artist: Jeff Hale
(First: Episode 0985)

Muppets / Celebrity
Loretta Lynn and Count von Count sing "Count on Me."
(First: Episode 2026)

Cartoon
A man connects the dots to form a house to escape from the rain.
Artist: Bill Davis
(First: Episode 2218)

Muppets
Ernie & Bert — Ernie is thirsty, and imagines that he's drinking nice cold water. Irritated, Bert tells him to go get a real glass of water. Ernie does, but then he annoys Bert by saying that now he's hungry.
(First: Episode 0459)

Cartoon
"The Little Letter L: A Poem by Louise"
Artist: Bruce Cayard
(First: Episode 1526)

Cast
Luis and Gordon have a hard time picking apples by themselves, but all it takes is cooperation.
(First: Episode 1399)

Song
"School Song"
(First: Episode 0986)

Cartoon
What would happen I popped this balloon?
(First: Episode 1312)




SCENE 1
Oscar starts today's Grouchketeer meeting, with new member Snuffy, who sports a giant trashcan lid for a hat. Oscar imagines that a lid that big must come from a giant trashcan, with giant trash! Oscar makes Snuffy a part of their trash-and-tell section and sends him home to bring some giant trash.

Cartoon
Q/q (balloons)

Muppets
Ernie demonstrates the letter Q with a quart of milk; Cookie Monster drinks the milk.
(First: Episode 0047)

Film
Snow in the city
Music: Joe Raposo
(First: Episode 0429)




Muppets
Dicky Tick hosts "Lifestyles of the Big and Little."
(First: Episode 2206)

Cartoon
"Ladybugs' Picnic"
(First: Episode 0416)

SCENE 2
Snuffy brings back his giant trash, which Oscar loves. Snuffy explains the story behind each piece of trash, adding it's the only stuff he could find that wasn't taken by the trashman. Oscar realizes that there must be a Snuffleupagus dump with more giant trash and organizes a trip to it, with Snuffy leading the way.

Cartoon
A family of snakes makes shapes, and rolls away.
(First: Episode 1506)

Cast
Maria and Linda sew quilts with a Q on them.
(First: Episode 1508)

Cartoon
Tiger likes going to school.
(First: Episode 0549)

Song
Joe Raposo sings "What Babies Are Called"
(First: Episode 0116)

Cartoon
Things say that other things are small, but then something comes along that's bigger, or smaller, or whatever.
(First: Episode 0320)

Muppets
Muppet & Kid Moment — Grover and Christopher talk about what love is.
(First: Episode 1484)

Cartoon
I Love You, in American Sign Language
Artist: Steve Finkin
(First: Episode 1170)

SCENE 3
In the rain, Oscar, Snuffy and the Grouchketeers continue walking, trying to find the dump, with no success. Oscar tells them to press on; the next dump they find might be the "dump at the end of the rainbow." Suddenly, they realize they've been in the dump all along and Oscar sings "There's a Big Heap of Trash at the End of the Rainbow."

Cartoon
A magician writes in his diary about the many mishaps during his performance.
(First: Episode 2053)

Film
Counting the circus clowns
(First: Episode 0501)

Muppets
Sesame Street News Flash: Kermit the Frog reports on the prince kissing Sleeping Beauty, but rather than waking her up, falls asleep himself.
(First: Episode 0513)

Cartoon
While fishing one day, a boy catches the letters of the alphabet. Frustrated at not having caught any fish to eat, he decides to use his catch for alphabet soup.
(First: Episode 0004)

Song
"Garbageman's Blues Song"
(First: Episode 1875)

Muppets
Clementine and Buster get on a train, and try to tell Forgetful Jones that he's supposed to get on the train with them, but Forgetful Jones would much rather remember on his own why he's at the train station. The train leaves just as Forgetful remembers why he's there.
(First: Episode 1654)

Cartoon
Q-quiet! (tree chopping)
(First: Episode 0675)

SCENE 4
Oscar recites the sponsors to the members and they all give the salute to the viewer.
Community content is available under
CC-BY-SA
unless otherwise noted.