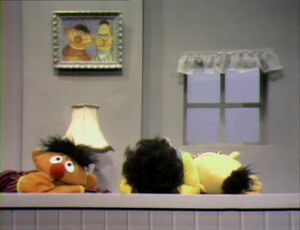 Ernie tells Bert that he has a note for him, but he can't remember where it is. He thinks maybe he put it in the toybox, so he digs through the box, throwing toys everywhere. It's not in the toybox, so Ernie looks in the clothes hamper, scattering clothes all over. He finally finds the note, which tells Bert that it's his turn to clean up the apartment. (EKA: Episode 0355)
Waiter Grover informs Mr. Johnson that the restaurant is out of a lot of items that are on the menu. The only thing still at the restaurant is milk...but there are no glasses. (EKA: Episode 1708)
Hoots the Owl admires Price's invention and unofficially dubs it the flower- holding, towel-drying, ear- scratching, sit upon, owl perchaphone. Then he plays it. Dr. Price announces the sponsors and the nighttime end credits roll to the sound of Hoots's playing.
Community content is available under
CC-BY-SA
unless otherwise noted.