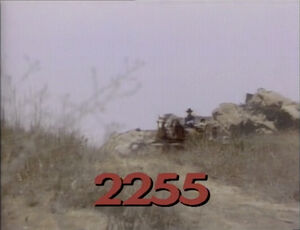 Picture
Segment
Description

SCENE 1

Elmo calls upon Luis to help him make a model airplane. However, after Luis gets all the supplies out, he learns that Elmo doesn't have an actual model airplane and is just preparing for when he does get one someday.

Film

A man carves a wooden horse.
Music: Joe Raposo

Cartoon

Consonant Sound Limerick: D—Dog
Artist: Jeff Hale
(EKA: Episode 1186)

Muppets

Waiter Grover: Grover informs Mr. Johnson that the restaurant is out of a lot of items that are on the menu. The only thing still at the restaurant is milk... but there are no glasses.
(EKA: Episode 1708)

Cartoon

Either none, some or all of a pony's legs are on the ground as it runs and trots.
(EKA: Episode 1927)

Film

"Indian Baby Bath"
Music: Joe Raposo
(EKA: Episode 0329)

Muppets

"Five People in My Family"
(First: Episode 0008)

Film

The Mad Painter #5
(EKA: Episode 0929)

SCENE 2

It's Elmo's naptime and he wants Luis to read a story to him before he sleeps. Luis is too busy working on the computer, but offers to read him the Fix-It Shop ledger, which puts Elmo right to sleep.

Film

A scuba diver collects shells, which some kids count in voice-over.
Music: Joe Raposo
(EKA: Episode 0751)

Cartoon

A cat chases a mouse into a mouse hole. The cat and mouse make music as they hit the wall, until the cat breaks through the mouse hole.
Artist: The Hubleys
(EKA: Episode 0265)

Muppets

Template:Mkmeb Ernie, Bert and Shola talk about taking a nap. (ending edited)
(EKA: Episode 0671)

Cartoon

I am crying / estoy llorando (David and Maria VO's)
(EKA: Episode 1041)





Cast

The Heartstrongs, Part 1

In this soap opera parody, Mr. Heartstrong (Gordon) fusses over the loss of his red shoelace along with Mrs. Heartstrong (Susan). They both feel sad until their son Barnaby (David) comes downstairs! What a surprise! But that feeling doesn't last long, as Barnaby soon learns of the lost shoelace. As it turns out, Barnaby came downstairs to change shoelaces in order to play baseball.

Could this be a clue as to the whereabouts of Mr. Heartstrong's shoelace?

Animation

The big green balls and one little orange ball ride over the top of the hills. The little one can't make it over the big hill, but conquers the small hill.





Cast

The Heartstrongs, Part 2

In the thrilling conclusion, the doorbell rings! Who could it be at the door?

It's Cousin Henry (Uncle Wally), who drops in for a surprise visit, which quickly becomes somber when the lost shoelace issue is brought up again.

Just then, Mr. Heartstrong remembers what Barnaby said about a shoelace that didn't match, and as luck would have it, the missing shoelace is in Barnaby's left sneaker! This makes everyone happy!

Cousin Henry pulls the snake-in-the-can trick on Barnaby, which gives everyone another nice surprise! "Woo woo!"

Cartoon

Q -- that funny looking thing.
(First: Episode 0131)

Film

Animal camouflage
(EKA: Episode 0852)

Muppets

Cookie Monster sings "Cookie Disco."
(EKA: Episode 1093)

Film

D is a very useful letter -- there are animals, jobs, and hobbies that begin with D.
(EKA: Episode 0406)

Muppets

The Twiddlebugs try to figure out how to get to the zoo. They notice it's too far to walk, swim, or fly. Then they notice their Twiddle-car. (short intro)
(EKA: Episode 0693)

SCENE 3

Dr. Nobel Price has finally invented something original - a large device made from various odds and ends. Maria is impressed, but he has no idea what it actually does.

Cartoon

Fruta Manzana sings about keeping the place clean by throwing away fruit peels and apple cores.
Artist: Irra Verbitsky

Animation

A snail shell is uncovered in the sand.
(EKA: Episode 2058)

Animation

Five ghosts carry the number 5 into a haunted house.
Artist: Ishu Patel

SCENE 4

Maria and Dr. Price find out the many uses of his device. He appropriately names it the flower-holding, towel-drying, ear-scratching, sit upon thing.

Cartoon

A cowboy adds two different herds of cows.

Muppets / Celebrity

Tony Danza and Big Bird play tennis without a ball, and count twenty hits, while Kevin Clash announces.

Cartoon

An alligator and an elephant chat about how to remember their names.
(EKA: Episode 1836)

Muppets

Ernie and Bert: Ernie tells Bert that he has a note for him, but he can't remember where it is. He thinks maybe he put it in the toybox, so he digs through the box, throwing toys everywhere. It's not in the toybox, so Ernie looks in the clothes hamper, scattering clothes all over. He finally finds the note, which tells Bert that it's his turn to clean up the apartment.
(EKA: Episode 0355)

Cartoon

A blue man (voiced by Casey Kasem) explains that "Q" starts the word "quarter."
(First: Episode 0054)

SCENE 5

Hoots the Owl admires Price's invention and unofficially dubs it the flower-holding, towel-drying, ear-scratching, sit upon, owl perchaphone. Then he plays it. Dr. Price announces the sponsors and the nighttime end credits roll to the sound of Hoots's playing.
Notes
Community content is available under
CC-BY-SA
unless otherwise noted.