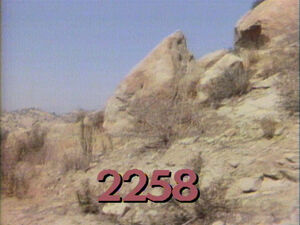 Picture
Segment
Description




SCENE 1
Elmo recites a poem he wrote about hands, after which everyone applauds. His next poem will be about feet.

Cartoon
"Jazz #4"
(First: Episode 0006)

Film
Old bottles are made into new bottles at a recycling plant.
music: "Black Eyed Peas" by Graham Preskett
(First: Episode 0917)

Cartoon
Two people think they hear a BARK in the DARK.
Artist: John Korty
(First: Episode 1941)

Muppets
Prairie Dawn presents a pageant about feelings. Bert dresses as Cupid to represent love, but his lines don't ring true. Instead, he sings his own song — "That's Love" — expressing that, to him, love means pigeons, oatmeal... and Ernie.
(First: Episode 1731)

Film
A kid recites a poem about adding penguins.
Music: Joe Raposo
(First: Episode 0255)

Cartoon
The rabbit and the turtle race to the top of a building. The rabbit goes up 40 steps, but the turtle takes the elevator.




Muppets
Oscar the Grouch hosts "The Trash is Right", in which contestant Grundgetta has to match each pile of trash with the picture of the person who threw it away.

Cartoon
A U train spells the words Unite, U-turn, Underground and Universe.
(First: Episode 0624)

Muppets
"I'm in Love with U"
(First: Episode 1701)

Cartoon
Name That Food ("Will you eat it?")
(First: Episode 1491)

Video
Scanimate kids intro
(First: Episode 0798)

Film
Kids with special needs do gymnastics at the Mamaroneck Co-Op Camp.
(First: Episode 0953)

Muppets
Sesame Street News Flash
Dr. Nobel Price reveals his latest captured creature, "The Great Poonga-Poonga," which turns out to be a live rabbit.
(First: Episode 1521)

Cartoon
A girl tries to lure her cat out from under the chair so she can pick him up.
Artists: The Hubleys
(First: Episode 0187)

Cast
Gordon sings "I Heard My Dog Bark" as Susan, Bob, Uncle Wally and some kids make the animal sounds.
(First: Episode 2169)

Cartoon
An ant is pressured by his peers to finish the anthill all by himself, until he enlists the cooperation of the others.
(First: Episode 1478)

Muppets
Caveman Days: Taking the kid to school
Ernie (the father) and Bert (the kid) go over the procedure of crossing the street.
(First: Episode 1950)

Animation
Where does the square fit?
(First: Episode 1599)

Cast
Big Bird watches the shape dancers make a square.
(First: Episode 1276)

Cartoon
Don't be a Snerd when you sneeze.
Artist: Bruce Cayard
(First: Episode 1487)

Celebrity
Victor Borge demonstrates seat belt safety when playing the piano.
(First: Episode 1174)




Muppets
Big Bird and Snuffy make up a story about a castle under the sea where a deep-sea diver prince lived.
(First: Episode 1797)

Film
George the Farmer is near when he's on a barrel; he's far when he's on the porch.
(First: Episode 0235)

Muppets
Harvey Kneeslapper sets up a bucket of confetti above a door, so that whoever pulls the rope attached to the bucket will get the confetti dumped on them. Instead, a little girl walks by and pulls the rope, so that the confetti lands on Harvey!
(First: Episode 0353)

Cartoon
Speech Balloon: Two men demonstrate "up" on a teeter totter; one man ends up crashing through the ceiling.
(First: Episode 0650)

Film
Shopping for soup ingredients.
(First: Episode 0515)

Cartoon
A father explains to his son why it is important to wear a seat belt when riding in a car.
Artist: Cliff Roberts
(First: Episode 1446)

Muppets
Cookie Monster and Ernie: Ernie tells the viewer to watch and listen for Cookie Monster, so he won't take the cookie which Ernie just got from Hooper's Store. Ernie encounters a machine that reads "Your Fortune Told. Insert One Cookie." Not realizing that Cookie Monster is inside the machine, he inserts the cookie. Some munching noises are heard, and a card comes out that says, "You will soon be kissed by a grateful Cookie Monster."
(First: Episode 0756)

Film
Luis announces "And now, the octopus!"
Music: "Pomp and Circumstance"
(First: Episode 0291)

Muppets
Muppet & Kid Moment — Kermit the Frog, Shola and Fannie have just finished watching the previous film. Shola hugs Kermit, and he comments, "She learned a lot from the octopus ... how to squeeze!"
(First: Episode 0534)

Cartoon
Speech Balloon: V for Violin
A musician plays a violin, which instantly breaks.
(First: Episode 0052)

SCENE 2
David comes into the Fix-It Shop, because his malt maker is broken (which explains why he was stirring that malt in the first street scene). It's almost time for lunch, but Luis can get the job done in a snap. David notices something flashing on the computer screen, and Luis points out that it's just the cursor.




SCENE 2
cont'd
Once Luis and David leave, the Martians fade into view, and try to communicate with the computer. The screen reads:
*****THINGS TO DO TODAY*****

Fix Bob's music stand
Order lumber
Call Mrs. Tupper
Fix Gina's radio

The orange Martian presses a key on the keyboard, and they get excited when they see the cursor move on the screen from left to right.

SCENE 2
cont'd
Suddenly, the computer starts making malfunctioning noises, and the screen goes blank. The Martians panic, and make themselves disappear as they hear Luis and David coming back. Luis notices that the screen is blank, and thinks someone's been messing with the computer. David thinks the screen went blank on its own, but Luis explains that the computer doesn't do anything unless you tell it to; it's not alive. They hear the Martians' voices in mid-air, and become confused ...

Cartoon
V for volcano
(First: Episode 1980)

Film
Some kids learn how to use Logo, a computer programming language, to draw shapes on computers.
(First: Episode 1968)

Cartoon
"That's About the Size of It"
Artist: Bud Luckey
(First: Episode 0279)

Film
A percussionist on the beach talks about how rhythm is everywhere, such as in breaking waves, walking and horse galloping. (edited)
(First: Episode 0032)




SCENE 3
The apologetic orange Martian re-appears near the computer when no one's around, and leaves a rose on the keyboard. Both Martians leave in their spaceship, and Luis curiously picks up the rose. Gordon announces the sponsors.