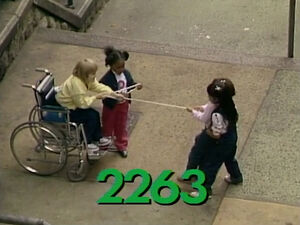 Picture
Segment
Description

SCENE 1
Linda welcomes the viewer. As Bob translates, Elmo and Telly become upset; they wanted to greet the viewer. Linda sees no harm in giving a second welcome, so they all do it together.

Cartoon
Q for Quiet
Artist: John Korty
(First: Episode 0441)

Muppets
The Twiddlebugs get a smoke detector installed in their home by the Twiddlebug Superintendent, but at first don't know what it is, but are pleased that it is working when it is tested. After Tessa figures out what it is and what it's for, smoke comes out of their oven (due to Tessie's stuffed bean being left unattended), and Ernie pours water over it to put out the smoke.

Cartoon
Q/q (balloons)
(First: Episode 2241)

Cast
Maria as Chaplin is out in the cold.
(First: Episode 1964)

Film
"Pig's Love Song" (live-action version)
(First: Episode 0572)

Cartoon
Nancy the nanny goat nibbles her nails and notices noodles.
Artist: Tee Collins
(First: Episode 0240)

SCENE 2
Gina finishes having some lunch at Hooper's Store, which she deems "scrumptious." Elmo pops up and asks David what the word means. He likes this new word and repeats it over and over, then wishes to use it himself by having something scrumptious. David gives him a sample of the soup Gina had, but Elmo doesn't love it as much. He takes bites of more dishes, not finding any of them truly scrumptious. Finally, an irked David asks Elmo what kind of foods he likes and plops down Elmo's favorite - an apple. However, Elmo is now much too full from all the other dishes to eat it.

Cartoon
Sign Sounds: OINK
(First: Episode 1163)

Muppets
Grover is a guest on the game show "Name That Sound."
(First: Episode 1643)

Animation
Stop-motion: what goes in the hot dog bun?
(First: Episode 1494)

Cartoon
A bully says the alphabet to a mild-mannered gardener, who hits him in the face with a pie at the end.
(First: Episode 0279)

Muppets / Celebrity
Itzhak Perlman and a Honker accompany Placido Flamingo in the tenor aria "Vesti la giubba" from Pagliacci. At the end, he says "Bueno, Bueno!! Excellent!! Such feeling! Such depth!" Perlman thanks him for the compliment, but Placido is quick to correct him: "I was talking to the little fuzzy one. But you were good, too. And I...I was brilliant!"
(First: Episode 2217)

Film
A boy makes fruit salad.
(First: Episode 1195)

Insert
Maria teaches Telly to count to 10 in Spanish with a song.
(First: Episode 1473)

Cartoon
Jazz #10
(First: Episode 0193)

Film
A gym instructor helps children perform a variety of stretching and bending exercises.
(First: Episode 1018)




Muppets
An Anything Muppet man arrives at a gas station, hoping to be filled in a short time. Instead, his car takes a long time to fill while the attendant fills other cars in a short time.
(First: Episode 0540)

Cartoon
Geronimo 10-0: The parachute becomes a large mattress.
(First: Episode 2245)

Film
A girl visits the stamp factory to see how stamps are made.

Cartoon
An N-terview with an N (Spanish version)
(First: Episode 0529)

SCENE 3
Big Bird introduces the Snuffle Puppet Show starring Snuffy's puppet Gus. Today's show is all about shapes and Big Bird presents a square to Gus. Snuffy gets so into character that when Gus drops it, the two get into an argument and accidentally mangle the shape up.

Film
Sounds Around the House v1: a dripping water faucet, a man playing the violin, a woman vacuuming, a teenager listening to pop music, and a passing elevated train.
(First: Episode 1706)

Muppets
The Two-Headed Monster sounds out "feet," and then the camera pans back to reveal a pair of live feet on some grass.
(First: Episode 1289)

Cartoon
A bird transforms into a plane, a car, a cat, a fish, a submarine, Submarine Man, and back to a bird.
(First: Episode 1616)

Muppets
Ernie & Bert — Ernie eats one of Bert's cookies and doesn't know what to tell him. Bert observes that there are four cookies when there should be five. No matter how Ernie arranges them, there are still four cookies. Since Bert doesn't want to see four cookies, Ernie eats another one, making it three instead of four.
(First: Episode 0238)

Animation
A rock does somersaults for its peers, but gets little applause.
(First: Episode 2021)

SCENE 4
Big Bird tries to get Snuffy and Gus to calm down and work together so they can get on with the show. Big Bird now presents a circle, which neither Gus or Snuffy can identify (as it's out of Snuffy's view).

Cartoon
Un circulo
(First: Episode 1657)

Muppets
Betty Lou learns some Spanish words from her friend Carlos, including "Amigo."
(First: Episode 2042)

Cartoon
Q -- that funny looking thing.
(First: Episode 0131)

SCENE 5
Big Bird and Snuffy say goodbye, while Gus "sleeps."