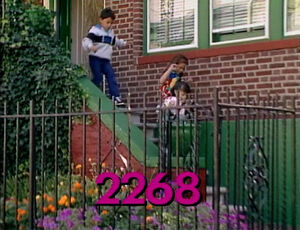 Picture
Segment
Description

SCENE 1
Maria observes Oscar coaching the Grouchketeers in "Mud Jumping" practice, their event for the upcoming Mud Olympics. They practice by jumping into a circle on the ground, simulating the mud puddle.

Film
People jump.
(First: Episode 0774)

Cartoon
K for keyhole, ketchup, and kitten
(First: Episode 0489)




Muppets
Mac TV host Old MacDonald introduces the newest music video, "A New Way to Walk" performed by The Oinker Sisters.

Cartoon
K-kick
(First: Episode 0463)

Film
Lions walk down a trail.
Music: Joe Raposo
(First: Episode 0367)

Muppets
The Two-Headed Monster builds a Two-Headed Snowman. It's missing noses; they fight over a carrot which breaks in half, solving the problem.
(First: Episode 1622)

Cartoon
R is for Rooster, and Robber, and Rake ...
Artist: Fred Calvert
(First: Episode 0011)

Cast
Big Bird, Susan and Bob sing "Can Read" while at a newsstand.

Cartoon
A man explains the letter R with a radio. Once he starts singing, the radio decides to turn him off by tweaking his nose.
(First: Episode 0011)

Muppets
Sesame Street News Flash
Kermit the Frog witnesses how the mailman and salesman knock at the door while the Big Bad Wolf chases Little Red Riding Hood around the bed. Eventually, the Woodsman shows up, and Red and the Wolf chase him for cutting down a maple tree which was their favorite one.
(First: Episode 0621)

Film / Animation
Oranges are peeled and sliced in stop-motion, and some kids eat them.
(First: Episode 1802)

Muppets
Herry Monster looks for a triangle. He first spots a rectangle. Grover tells Herry it isn't a triangle, and becomes frustrated. Next he spots a square, Grover tells him it isn't a triangle, and once again is frustrated. Grover suggests that Herry should cut the square in half and make two triangles.
(First: Episode 0195)

Cartoon
Nine penguins slide down a hill. (Maria voice-over added)
Artist: Owe Gustafson
(First: Episode 1532)

Cast
Luis tosses and turns in bed. Gordon hawks a sure-fire method of getting to sleep - counting. Luis orders Gordon to leave the bedroom in ten seconds, then falls asleep after counting.
(First: Episode 1487)

Cartoon
Sally the Spider skates with different combinations of her legs.
(First: Episode 0625)

Muppets / Celebrity
Vincent Van Grouch (Danny DeVito), curator of the Museum of Trash, has a look at Oscar the Grouch's pieces of Grouch art, and is always finding reasons why they are not grouchy or rotten enough for the museum.
(First: Episode 2156)

Song
"Garbageman's Blues Song"
(First: Episode 1875)

Cartoon
Animals walk.
(First: Episode 0926)

Muppets
Grover the Waiter at La Casa de Comidas
(First: Episode 1793)

Film
Fireworks Alphabet
(First: Episode 1104)

Cartoon
K - Kangaroo
Artist: Jeff Hale
(First: Episode 1160)

Muppets
The "K" film is interrupted by a Monster on the Spot report. Telly is about to interview King Kenny from the kingdom of K. Kenny notices there are no kangaroos, kazoos or kittens to be found, but Telly shows him there's plenty of kids, who gather around him. Telly learns they've run out of time for the interview, so he points them to the K film, which resumes.

Film
Two kids help an old Chinese man get his dragon kite in the air.
(First: Episode 0444)

Cartoon
The Ringmaster presents 9 elephants.
Artist: Jeff Hale
(First: Episode 1366)

Muppets
Ernie & Bert — Ernie and Bert are camping. It's time for them to sleep, but Ernie keeps distracting Bert by pointing out the various sounds that they hear.
(First: Episode 1808)

Video
Triangle in space (David voiceover)
(First: Episode 1548)

Insert
Three of These Kids are playing policeman, but the other one is playing fireman.
(First: Episode 0408)

Film
Nine Song (Song of Nine)
(First: Episode 0016)

Muppets
The Amazing Mumford sounds out the word MAGIC, then makes himself disappear.
(First: Episode 1075)

Cartoon
Dot Bridge #1: Dots appear uniformly
(First: Episode 0001)




SCENE 2
Big Bird has set up a tent in his nest, pretending to campout for the night. He and Radar imagine some of the sounds they might hear, including a hooting owl - which turns out to actually be Hoots the Owl, who agrees to play along. Big Bird goes inside the tent, sensing some rain. Hoots assumes this is also imaginary, until he starts getting wet and seeks shelter in the tent.

Cartoon
Eleven gumballs minus 4 equals 7.

Film
A girl meets a blind woman who has a seeing-eye dog.
(First: Episode 0952)

Muppets
An octopus sings "Octopus Blues."
(First: Episode 2221)

Cartoon
A lion named Kent gets a Kick out of being King of the forest.
(First: Episode 0463)

SCENE 3
Big Bird wants to get some sleep, but Hoots doesn't feel like stopping his saxophone session. Hoots plays a soothing song that helps Big Bird go to sleep. Telly announces the sponsors.