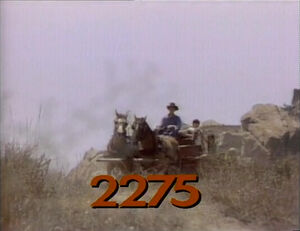 Picture
Segment
Description

SCENE 1
Bob plays and sings "Follow the Leader" with the kids.

Cartoon
Six camels
Artist: Owe Gustafson
(First: Episode 1503)

Muppets
Ernie & Bert — It's a sunny day at the beach, and Bert remembered to bring everything. Ernie, however, only brought an umbrella in case it rains... which it does.
(First: Episode 0284)

Cartoon
Men in boxes sound out the word RUN.
(First: Episode 0369)

Song
Joe Raposo sings "What Do You Do With a Fruit?"
(First: Episode 2050)

Muppets
Kermit talks about "same" by showing two identical rectangles. Cookie Monster eats one of them, making them different.
(First: Episode 0018)

Cartoon
A man displays his invention, the A-box, which only takes the letter A.
(First: Episode 0781)




SCENE 2
Big Bird, Telly Monster and Jason are at Hooper's Store and they plan to order a meal that begins with the letter of their names. Big Bird orders a big bowl of birdseed, a piece of bread with butter, and a banana. Telly orders a tuna fish sandwich, tomato juice, and a tangerine. David gets the idea behind what they just ordered, and points out that not too many foods start with the letter J for Jason. But Jason orders a macaroni salad, a melon, meatballs, and milk, which start with the letter M for "me."

Cartoon
I've Got a Mind: Bird
Artist: Cliff Roberts
(EKA: Episode 0269)

Film
A kid marching band forms a triangle.
(First: Episode 0531)

Muppets
"ABC Disco"
(First: Episode 1324)

Cartoon
R for Rhinoceros (poem)
Artist: Jeff Hale
(First: Episode 1151)

Cast
Charlie Chaplin obeys the word HOP, then switches it to STOP.
(EKA: Episode 1982)

Cartoon
These Are Your Parts: The host interviews a hand.
(First: Episode 1359)

SCENE 3
Bob plays a game with the viewer to find the hidden 6s in the painting.

Cartoon
A magician tries to make six circles disappear.
(First: Episode 0783)

Song
Alone Song
(First: Episode 0921)

Muppets
Alphabet Chat: Mr. Chatterly tries to discuss the letter R, but everything goes awry.
(First: Episode 0876)

Cartoon
Different uses of a triangle (Spanish)
(EKA: Episode 1753)

Muppets
Forgetful Jones needs something to ride around the ranch. Clementine gives him clues: it has four legs, a bushy tail, eats hay, and neighs. It's his horse Buster, who arrives with the jeep.
(First: Episode 2081)

Cartoon
A chair displays the word SIT, and a beast sits on him.
(First: Episode 0399)

Insert
Big Bird and Snuffy remember when they met ... but their memories are different from one another.
(First: Episode 2208)

Cartoon
The Typewriter: R for Rope
Artist: Jeff Hale
(First: Episode 0764)

Film
David asks the viewer to find some triangles in a fence.
(First: Episode 0434)

Muppets
Lena Horne sings "How Do You Do?" to Grover.
(First: Episode 0536)

Cartoon
A man shows the difference between a regular slice of bread and a toasted one.
(First: Episode 1497)

Insert
Ask Oscar: Timi translates Oscar's words in sign language as he answers a letter from someone who wants to know what the longest Grouch word he knows is. Oscar states that the word is "supercalifragilistic-yucka-alidocious" (a reference to "Mary Poppins"), which is hard to sign, especially when Oscar repeats it many times.
(First: Episode 1829)

Cartoon
A for apricot, alligator, acrobat, accordion, artist, airplane.
(First: Episode 1586)

Film
Swimming and flying pelicans.
(First: Episode 0322)

Cartoon
A boy does an addition problem in his head: 5 + 1 = 6.
(First: Episode 0548)

Muppets
The Count sings about "The First Day of School".
(First: Episode 1736)

Animation
Blue, red and yellow ovals play "Old MacDonald."
(EKA: Episode 2002)
Film
"Six Song (Song of Six)"
(First: Episode 0011)

Cartoon
Christopher Clumsy demonstrates the things feet can do.
Artist: Cliff Roberts
(First: Episode 0455)

SCENE 4
David plays basketball with the kids while Bob announces the sponsors and the credits roll.
Community content is available under
CC-BY-SA
unless otherwise noted.