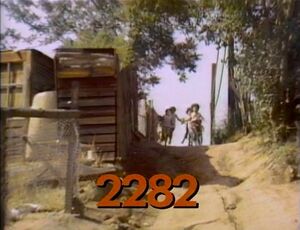 Picture
Segment
Description




SCENE 1
Dr. Nobel Price is testing a machine he just invented: a "wake-up" machine. The way it works is, a spool of thread is attached to the hands of a clock, so that when the hands move, it lowers the string, which is wired on a pulley, which will lower a lever and lift a feather to Dr. Price's nose. He shows the machine to Gordon, who points out to the viewer that there's such a thing as an alarm clock. At that point, the alarm rings, which means it's time for Dr. Price to do his exercises.

Cartoon
H for hair
(First: Episode 0475)

Film
Animals and children bathe in water.
Music: Joe Raposo
(First: Episode 0615)

Celebrity
John Moschitta Jr. and the alphabet baby
(First: Episode 2048)

Cartoon
P Words (including parachute and plug)
(First: Episode 0296)

Muppets
Ernie & Bert — Ernie enjoys watching Bert read a book, but Ernie's staring at him is driving Bert bananas.
(First: Episode 1741)

Cartoon
A small man and a big heavy man observe an imbalance on the seesaw.
(First: Episode 1121)

Cast
Linda holds up a "One Way" sign for Damion Brown in front of Big Bird's nest construction doors. Damion reads the word, then learns to sign it.
(First: Episode 1066)

Cartoon
Sign Man: One Way
(First: Episode 1125)

Film
Song: "Cow Dog Song"
(First: Episode 0783)

Cartoon
P-Pyramid
(First: Episode 2061)

Muppets
Game Show: The School Game

Cartoon
My dog Happy
(First: Episode 0537)

Cast
Olivia sings "Listen to the Wind."
(First: Episode 2092)

Cartoon
Pistons push a capital H through a tunnel, where it breaks and turns into a lowercase h. (with voiceover by Roscoe Orman)
(First: Episode 2217)

Insert
Kim and David help each other put on their smocks before painting a picture.
(First: Episode 0284)

Cartoon
Two men push two large bird eggs to the top of two hills.
(First: Episode 0773)

Film
Letter H hoist
Music: Joe Raposo
(First: Episode 0336)

Muppets
Ernie & Bert — Bert complains when a big letter H appears on the TV screen, so Ernie turns off the set, unplugs it, and takes a bunch of H objects out of the TV (including a hat, a house and a hamster). When he plugs it back in, a big letter I appears on the screen. Ernie wants to try fixing the TV again, but Bert tells him not to -- this is a great show.
(First: Episode 0578)

Cartoon
Footprints move over to the tune of "Here Are Some Things".
(First: Episode 0505)

Film
Horseback Mailman
(First: Episode 0493)

Film
Scanimate kids intro
(First: Episode 0798)

Insert
Big Bird, David & the kids play an animal game.
(First: Episode 1193)

Cartoon
The Typewriter: H-hand
(First: Episode 0771)

Muppets
Kermit sings "Frogs in the Glen."
(First: Episode 1786)

Film
Joe Raposo: Counting buses (instrumental)
(First: Episode 0406)

Cartoon
Circle In Space (with voiceover by Northern Calloway)
(First: Episode 1441)

Muppets
The Two-Headed Monster reads a newspaper
(First: Episode 2097)

Cartoon
Story of Twelvia
Artist: Irra Verbitsky
(First: Episode 1676)

SCENE 2
The Count counts everything Maria takes out of her shopping bag, including rolls of tape, a hammer, and a box that says "1000 NAILS." The Count insists on counting them, but Maria suggests he do it outside.

Film
Song: The Farm
(First: Episode 0138)

Muppets
Grover demonstrates One Way.
(First: Episode 0993)

Cartoon
Ringmaster #12
(First: Episode 1295)

SCENE 3
The Count has finished counting all of Maria's nails, which turn out to be candles.

Cartoon
Look both ways before you cross the street
Artist: Ray Favata
(First: Episode 1397)

Film
Shadow puppet horse
(First: Episode 0908)

Muppets
Ernie & Bert — Ernie wants to have some cookies. Bert asks Ernie if he knows what "before" means, and Ernie demonstrates by saying that before he can have a cookie, he has to open the lid to a cookie jar, and after he closes the lid, he eats the cookie. He demonstrates a few times, until he loses his appetite for dinner.
(First: Episode 0007)

Cartoon
The Magnificent Splasho demonstrates before and after.
(First: Episode 0694)




SCENE 4
The Count is just standing there, looking up at the sky. When Big Bird arrives, he counts 1 ... which confuses Big Bird, so he looks up with the Count. Elmo does the same, as does Gordon, an unnamed kid, and Maria. Finally, he exclaims "Five! Five people standing with their noses pointed straight up and looking wery silly!" They all chase after him as he announces the sponsors.
Community content is available under
CC-BY-SA
unless otherwise noted.