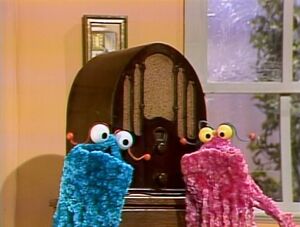 Picture
Segment
Description




SCENE 1
Telly Monster welcomes the viewer to Sesame Street, and reveals that he and The Count are going to play hide-and-seek. Telly goes off to hide, while The Count covers his eyes and counts. However, instead of looking for Telly, The Count continues to count. Telly hides under the staircase in the courtyard, and wonders when The Count will find him.

Cartoon
The rabbit and the turtle race to the top of a building. The rabbit goes up forty steps, but the turtle takes the elevator.
(EKA: Episode 2258)

Film
Most animals have two eyes, ears, etc. ... but some snakes have two heads.
Music: Joe Raposo
(EKA: Episode 0331)
Muppets
Sesame Street News Flash: Hey Diddle Diddle
(First: Episode 0634)

Film
A bumblebee
(First: Episode 0082)

Cartoon
A stubborn hippo sits on a girl's ball, and she tries to figure out how to get it back.
(EKA: Episode 1124)




SCENE 2
The Count has counted to forty twenty times now, and decides to do it again. Telly gets worried that no one will ever find him, even if he sticks his hands and feet out, and goes over to the Fix-It Shop again, where The Count is still counting. Now it's Telly's turn to be "it," but The Count would rather listen to him count than hide, which flatters Telly a bit.

Cartoon
While fishing one day, a boy catches the letters of the alphabet. Frustrated at not having caught any fish to eat, he decides to use his catch for alphabet soup.
(First: Episode 0004)

Muppets
Ernie & Bert — Bert can't go on a trip with Ernie because his hand has purple paint on it. Ernie puts a mitten on Bert's hand to cover it, but Bert still won't go because he looks silly wearing one mitten. So Ernie completes the outfit with another mitten, a hat, a scarf, and a sled. Ernie then reveals that they are going to the beach.
(First: Episode 0386)

Film / Animation
Oranges are peeled and sliced in stop-motion, and some kids eat them.

Cartoon
A salesman offers a passerby the letter N for next to nothing.
Artist: Cliff Roberts
(EKA: Episode 1939)

Muppets
The Rhymies go camping, but a bear disrupts their campsite.
(First: Episode 1389)

Cartoon
A boy counts down to zero as he eats his soup.

Cast
Olivia sings a song about fireflies as Linda shows some kids how to sign the word.
(First: Episode 1662)

Cartoon
A pencil tries to write the word DANCE.
(First: Episode 1966)

Muppets
The Martians discover a radio. They tune into three different styles of music, none of which they like. Then they tune into some static, which they start joyfully dancing to.
(First: Episode 1329)

Cartoon
An owl flies, carrying a sign that says "PELIGRO."
(EKA: Episode 0811)

Film
A girl visits the stamp factory to see how stamps are made.

Cartoon
A tiny ant pushes the huge N into its place in the alphabet.
(First: Episode 0780)

Film
Some clowns, more clowns
(EKA: Episode 1017)

Cartoon
A short bird stands under a tall bird, which lays an egg on its head.
(First: Episode 0303)

Cast
David sings "Mary Had a Little Lamb" while Linda signs it.

Cartoon
Gordon voiceover N/n

Muppets / Celebrity
Hoots the Owl names the different kind of musical notes there are, with the help of Wynton Marsalis.
(First: Episode 2205)

Animation
New Ball in Town: Three striped balls encounter a polka-dotted ball.
(First: Episode 0777)

Muppets
The Count starts his first day as an elevator operator. Kermit the Frog wants to go to the seventh floor, but the Count would much rather go all the way to the top floor.

Cartoon
A red PELI and an explosive GRO form the word PELIGRO.
(First: Episode 0787)

Song
"I'm Winter and I'm Cold!" Beware!
(First: Episode 1416)

Cartoon
A boy builds a house out of blocks, and when the girl builds a Victorian house, the boy calls her a copycat.
(First: Episode 0780)

Muppets
Grover tells Herry's secret (which is actually the alphabet) to Pamela, who tells Fenwick, who tells Rosemary. Herry says to Grover, "You're very good at reciting the alphabet ... but you're lousy at keeping secrets!"
(EKA: Episode 1246)

Cartoon
M for mouse, mud and mother
(First: Episode 0073)

Cast
The disco song, "Ride A Bike," is played over footage of the Sesame adult cast riding bicycles.
(First: Episode 1186)

Animation
Draw a circle around the bus. Cross out the telephone.
(EKA: Episode 2208)

Film
Close-up shots of a car and a frog are shown side-by-side.
(First: Episode 1530)
Muppets
Cookie Monster sounds out the word FOOD, then eats it.
(First: Episode 0601)

Animation
Red and yellow dots play "Twinkle Twinkle Little Star."
(EKA: Episode 2253)

Film
Five dancers disappear one by one, until there are none left.
(First: Episode 0675)

Cartoon
A boy learns to play his violin by practicing.
(EKA: Episode 1736)

Muppets
An Anything Muppet barbershop group sings "High, Middle, Low".
(EKA: Episode 0236)

Cartoon
Two Farm Animals (Gordon voice-over added)
Artist: Owe Gustafson
(First: Episode 1447)

Film
"Doll House"
(First: Episode 0131)

Transition
The screen fills up with sand.
(EKA: Episode 0353)

SCENE 3
At closing, Maria and David play with some kids in the courtyard as Luis announces the sponsors.