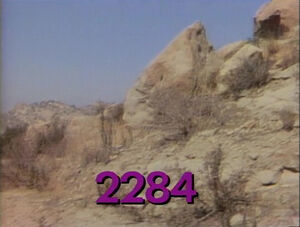 Picture
Segment
Description

SCENE 1
Big Bird greets the viewer as Flo Bear works on the script for another episode of her soap opera, All My Letters. Big Bird remembers the next episode is about to air and turns on his TV...

SCENE 1 cont'd
In today's edition of All My Letters, the letter K is the focus as a king (Jerry Nelson) is unable to open the door to the kitchen. The Keeper of the Keys (Fran Brill) says the kitchen key is under the purview of the Keeper of the Kitchen. Instead, the Keeper of the Kitten (Richard Hunt) arrives and reports the Keeper of the Kitchen quit and took the key with him. The show begins its transition to the letter L as the crew tries to locate a locksmith.

SCENE 1 cont'd
Big Bird asks where Flo was on the program and is astonished to learn that Flo actually writes the dialogue used on the show. He then helps her think of some L words for the next episode.

Film
A girl narrates a segment about nature through winter and spring.
(First: Episode 1966)

Cast
Linda signs the word "snow", and David gets caught in the snow.
(First: Episode 1325)

Cartoon
The Pink Panther - K For Karate
(First: Episode 0241)

Cast
Linda signs the word "rain", and David gets rained upon.
(First: Episode 1325)

Cartoon
An old woman emerges from the pouch of a bouncing kangaroo. She proclaims, "K! Kangaroo!"
(First: Episode 0489)

Cast
Linda signs the word disappear - which David does.
(First: Episode 1330)

Cartoon
Geometry of Circles #2 "Seven Circles with Designs"
(First: Episode 1394)

Muppets
Clementine and some cowboys sing "I'm a Real Cowboy" to Forgetful Jones to remind him of what he is.
(First: Episode 1965)

Cartoon
Snacks on Parade: Peanut Butter
Artist: Bruce Cayard
(First: Episode 1301)

Muppets
Ernie & Bert — Ernie plays a game of tag with Bert, who is reading his book.
(First: Episode 1026)

Insert
Gordon and Olivia sing "Quiet Is."
(First: Episode 1099)

Film
Kids go roller-skating in a playground as ragtime music plays.
(First: Episode 1234)

Cartoon
Capital I, he's quite a guy
(First: Episode 0368)

Film
A girl wants to learn a playground rhyme after watching some other girls do it, so one of them teaches her.

Muppets
Telly pretends to be an elephant, a goat and a lion.
(First: Episode 1698)

Film
An I-beam is molded at a steel factory as heavy industrial-type music underscores the action. The segment ends on a video freeze of the finished beam, which is shaped like the letter "I."
(First: Episode 1077)

Muppets
Sesame Street News Flash
Kermit stands by a grandfather clock waiting for a mouse to run up it, acting out "Hickory Dickory Dock". Gladys the Cow and a duck show up instead. Finally, a horse comes in and explains that the mouse can't make it. The horse runs through the clock, breaking it.
(First: Episode 0710)

Cartoon
The story of Aesop's "The Lion and the Mouse."
(First: Episode 0773)

Muppets
Ernie & Bert — Bert asks Ernie to help him carry his heavy groceries, but Ernie is too busy thinking about all the things he can do as he sits in a chair: breathing, listening, and smelling.
(First: Episode 1449)

Celebrity
Yosh Shmenge (John Candy) performs the "Alphabet Polka" with Big Bird and Slimey's worm polka band.

Cartoon
SALIDA (train)
(First: Episode 0537)




Cast
The Heartstrongs, Part 1

In this soap opera parody, Mr. Heartstrong (Gordon) fusses over the loss of his red shoelace along with Mrs. Heartstrong (Susan). They both feel sad until their son Barnaby (David) comes downstairs! What a surprise! But that feeling doesn't last long, as he soon learns of the lost shoelace. As it turns out, he came downstairs to change shoelaces in order to play baseball.

Could this be a clue to the whereabouts of Mr. Heartstrong's lost one?

(First: Episode 2163)

Film
A baby chick hatches from an egg. (Music: Joe Raposo)
(First: Episode 0690)




Cast
The Heartstrongs, Part 2

In the thrilling conclusion, the doorbell rings! Who could it be at the door?

It's Cousin Henry (Uncle Wally), who drops in for a surprise visit, which quickly becomes somber when the lost shoelace issue is brought up again.

Just then, Mr. Heartstrong remembers what Barnaby said about a shoelace that didn't match, and as luck would have it, the missing one is in his left sneaker! This makes everyone happy!

Cousin Henry pulls the snake-in-the-can trick on Barnaby, which gives everyone another nice surprise! "Woo woo!"

(First: Episode 2163)

Animation
Henson Films: Number Twelve Rocks
(First: Episode 0195)

Insert
Seven kids appear in some playground barrels and child voiceovers count them as they pop in and out.
(First: Episode 1315)

Cartoon
Speech Balloon: I for Island.
(First: Episode 0314)

Muppets
Ernie watches as the Twiddlebugs cut down the pretty flowers in their yard. Once they've realized the environmental mistake they've made, they undo their action by creating giant flowers from wrappers.
(First: Episode 1512)

Film
A zookeeper feeds some polar bears sardines.
(First: Episode 1647)

Cartoon
"Ladybugs' Picnic"
(First: Episode 0416)

Muppets
Muppet & Kid Moment — Grover and John-John count to 20.
(First: Episode 0476)

Cartoon
Stop-motion NUTS
(First: Episode 1178)

Film
SALIDA (word spins around)
(First: Episode 0967)

SCENE 2
In the Fix-It Shop, Forgetful Jones impresses Clementine with how much he knows about computers. Oscar announces the sponsors.